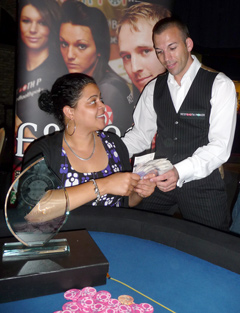 London was a hive of activity as Boris Johnson's skyride was a mere side event to Redtooth's East London Regional Final at the Loose Cannon Club.
153 players would mean the top six would progress to next years National Final from our first of two London Regional Finals. Our first elimination of the afternoon saw Michael Mulqueen from the Inn on the Green in Ilford hit the rail in unfortunate circumstances. It was however a good day for the qualifiers from the Three Compasses in Hornsey as two of their three players made the final table, Priyesh Jani and Kirk Hawksworth. Although neither could bring home the victory.
Donna Serpanchey from the Goose & Granit in Walthamstow started the final as the chip leader with 170,000 in chips and with Nicky Duggan from the William Camden in Bexley close by on 130,000. Donna made no mistake though, as our first female winner of the weekend ironically secured an impressive win while holding the two ladies as Donna's QQ was too strong for Kevin McCabe's K7 on a final board of T5A 2 J. Girl Power! Congratulations Donna and we'll see you in Nottingham!
Cash Prize Winners
1st Donna Serpanchey – Goose & Granit, Walthamstow
2nd Kevin McCabe – Royston Arms, Chingford
3rd Priyesh Jani – Three Compasses, London
4th Mark Ridley – Southgate Members Club, London
5th Nicky Duggan – William Camden, Bexley
6th Chris Hood – Windsor, London
7th Alan Clark – Red Lion, Billericay
8th Kirk Hawksworth – Three Compasses, London
National Final Qualifiers
Donna Serpanchey
Kevin McCabe
Priyesh Jani
Mark Ridley
Nicky Duggan
Chris Hood