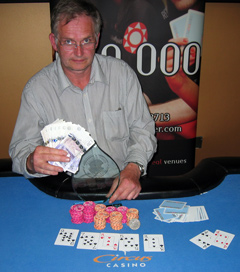 Birmingham's Star City Circus Casino played host to our first West Midlands Regional Final for season 2. Players braved the wind and rain with the hope of reaching the promised land of pub poker at some point later in the day.
As soon as our league winners had been presented with their well earned trophies and certificates, 'shuffle up and deal' was announced. The overall play was very tight in general as there were few eliminations during the first hour. But as soon as the blinds started increasing the aggression picked up and inevitably the eliminations came thick and fast. Hand for hand play on the final table bubble lasted only one hand as Steven B from the Pilot in Wolverhampton was the unlucky 11th place finisher.
The final table was a long and grueling battle as 4 handed play lasted nearly an hour, with the short stack doubling up somewhere in the region of 10 times consecutively. Eventually we were down to the heads-up match between Paul Wilkes from the Woolpack in Telford and Richard Colefield from the Bucks Head in Church Stretton. Paul started the final table and heads-up match with the chip lead, although it was not to be for Paul as Richard bided his time to complete an impressive comeback as his 44 held up against Paul's K6 on a 353 7 9 board. Congratulations Richard and all of our qualifiers and cash winners.
Cash Prize Winners
1st Richard Colefield – Bucks Head, Church Stretton
2nd Paul Wilkes – Woolpack, Telford
3rd Matt Dews – Roebuck, Wolverhampton
4th Brian Foxall – Spread Eagle, Wolverhampton
5th Kevin Benton – Gunmakers Arms, Wolverhampton
6th John Maguire – Easington, Banbury
7th Duncan Taylor – Crown & Sceptre, Minsterley
8th Ian Kemp – Raglan Arms, Rugby
National Final Qualifiers
Richard Colefield
Paul Wilkes
Matt Dews
Brian Foxall
Kevin Benton
John Maguire
Duncan Taylor
Ian Kemp