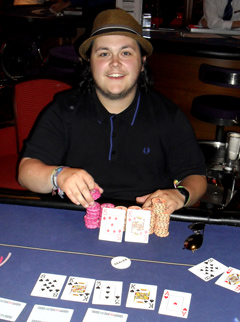 A record 209 players gathered at the Gala Casino, Sol Central in Northampton for the season 2 Regional Final on Sunday 5th September.
The start of play was slightly later than usual due to computer failure at the reception and tournament software that only wanted to seat eight players at each table!!!
When play did eventually start we did not have to wait long for our first casualty, Julian McKinley of the Fox & Duck in Buntingford who only lasted for about five minutes. Julian received the customary round of applause along with a collective sigh of relief.
Cautious play meant that by 6.00pm just under half of the field were left, a total of 94 players, however as the blinds took effect eliminations increased and by about 9.00pm we were ready for the final table where for the first time all 10 players were guaranteed a seat at the National Final, next March.
Two ladies made the final table although their chip stacks were at opposite ends of the range, Sandra Hardwick of the Peachcroft Social Club, Abingdon, came to the table with one solitary chip, whilst Jan Styles of the Queens Head, Northampton was chip leader with a total of 250k.
Almost inevitably, Sandra was the first person eliminated from the final table, she was soon followed by Ben Whitty, Queens Arms, Didcot, Nick Howard, Fox, Barhill, Steve Byrne, Kennington Sports & Social Club, Oxford, Andy Clarke, Whittle Way, Stanground and Lee Collier, The Bull, Hemel Hempstead.
The final four continued a topsy turvey battle with no sign of anyone sitting back and waiting for a monster hand, chips were being passed round the table all the time and it was hard to keep track of who held the chip lead.
Eventually, Daniel Dagg from Hobson's Choice, Kettering was eliminated in 4th place and Jan Styles followed soon after in 3rd . This left Andy Skutela, The Dragon, Peterborough and , Riley's, Ipswich to battle it out head's up. Earlier on Darren's chip count had fallen as low as 80k, however he now had a commanding advantage which he soon made to count.
Congratulations to Darren on becoming Central Region Champion and to all the other qualifiers and players for participating in a most enjoyable day.
Cash Prize Winners
1st Darren Murphy – Riley's, Ipswich
2nd Andy Skutela – Dragon, Peterborough
3rd Jan Styles – Queens Head, Northampton
4th Daniel Dagg – Hobson's Choice, Kettering
5th Lee Collier – Bull, Hemel Hempstead
6th Andy Clarke – Whittle Way, Stanground
7th Steve Byrne – Kennington Sports & Social Club, Oxford
8th Nick Howard – Fox, Barhill
National Final Qualifiers
Darren Murphy
Andy Skutela
Jan Styles
Daniel Dagg
Lee Collier
Andy Clarke
Steve Byrne
Nick Howard
Ben Whitty
Sandra Hardwick