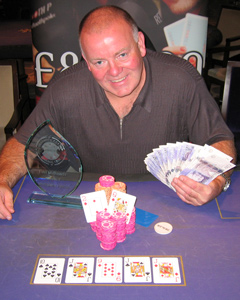 The Alea Casino in Nottingham hosted our latest East Midlands Regional Final. 195 players took their seat in what would be one of our largest Regional Finals of the season, this meant 8 players would receive a cash prize and a National Final seat.
Play was delayed slightly due to the Nottingham marathon, so 'shuffle up n deal' was announced at around 2:30pm. It didn't take long to lose our first player of the afternoon. Warren Allen of the AJ's Bar in Derby was the unlucky player and this elimination triggered more eliminations as the tournament progressed at a rapid rate.
When down to the last two tables, Martin Hill from the Charlton Arms in Nottingham took charge of the tournament, eliminating a handful of players on his table. This inevitably left Martin as the chip leader as our final table of nine was set. Unfortunately there would be an unlucky 9th placed finisher who would go home empty handed, eventually this would be Helen Sharratt from the Goose in Gamston.
Shortly after the bubble was burst, the tournament was over as Martin Hill and Caroline Quinn contested the heads up match. Martin's huge chip lead was too much for Caroline to overhaul as the final hand saw Martin's Q2 hold up against Caroline's 75 on a JJ9 J T board.
Cash Prize Winners
1st Martin Hill – Charlton Arms, Nottingham
2nd Caroline Quinn – Chequers, Hucknall
3rd Owen Potter – Cross Keys, Belper
4th Kevin Dooley – Paddock, Breadsall
5th Robert Ward – Hope & Anchor, Derby
6th Alan Summers – Five Bells Inn, Claypole
7th Simon Gregg – AJ's, Derby
8th Rob Pursor – Boot & Slipper, Alfreton
National Final Qualifiers
Martin Hill
Caroline Quinn
Owen Potter
Kevin Dooley
Robert Ward
Alan Summers
Simon Gregg
Rob Pursor