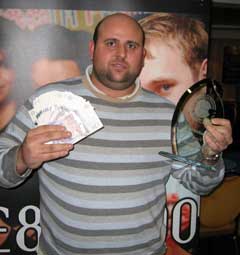 Birmingham's Star City once again took care of another West Midlands Regional Final. The top eight players will hit Nottingham next March for our annual National Final and they would also leave Star City with a cash prize in their pockets!

Diane Capewell from the Corner House in Burton-upon-Trent was the first player eliminated after only a handful of hands. Rumour has it that Diane was done by a killer river which sadly went against her. Once all players had helped themselves to the buffet, play re-commenced and eliminations came thick and fast. The battle for the team trophy came down to two pubs in what was a very close race. The Fox & Dogs and the Yardley Arms were still going strong until Laurence Smith was eliminated in 47th place from the Fox & Dogs, this meant that Sarah Jones, Simon Smith and Jim Garvey from the Yardley Arms would receive the trophy for the team event winner.
The final table was set once Mick Newman from the Fox Inn in Tamworth was eliminated. Although unfortunately two players would still miss out on the cash and the National Final. Martyn Abbott from the Hilly House in Dudley started as the chip leader and must have thought he was guaranteed National Final qualification. But after doubling up a few short stacks, Martyn only just scraped in finishing in 8th place. The heads-up match came down to Darren Lee from the Open Arms in Coventry and Lee Sharkey from the Coach & Horses in Shipston-on-Sour. The chip lead went back and forth until Lee picked up the bullets and over powered Darren's 74 on a K63 6 Q board. Congratulations Lee Sharkey!
Cash Prize Winners
1st Lee Sharkey – Coach & Horses, Shipston-on-Sour
2nd Darren Lee – Open Arms, Coventry
3rd Mark Stone – Corner House, Burton-upon-Trent
4th Michael McCleverty – Foley Arms, Sutton Coldfield
5th Anthony Kearney – Phantom Coach, Coventry
6th Simon Baker – Fox & Dogs, Sutton Coldfield
7th Simon Smith – Yardley Arms, Birmingham
8th Martyn Abbott – Hilly House, Dudley
National Final Qualifiers
Lee Sharkey
Darren Lee
Mark Stone
Michael McCleverty
Anthony Kearney
Simon Baker
Simon Smith
Martyn Abbott
Team Winners
Yardley Arms, Birmingham