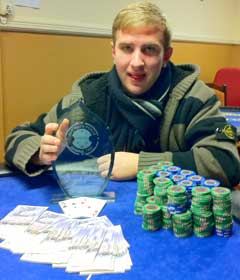 Our newest venue, Shuffles, hosted the South England Regional Final in Portsmouth for the second time. 130 players sat down with the hope of gaining National Final qualification and becoming the new champion of the region.

Paul Smith from the Railway in Bognor Regis was the first player to be eliminated shortly after the 2pm start. This loosened up the rest of the players a bit and several more had been eliminated by the first break. The Half Moon in Crawley were the runaway winners of the team event, thanks to the three Richards. Richard Wynter, Richard Morrell and Richard Waller all put in a good performance on the day to become South England's first team champions of the region.
The final table saw eight players take to the felt. Richard Morrell from the Half Moon in Crawley who was the chip leader with 177,000 in chips, wasted no time as he raced to the heads-up match against the second highest stack Dave Foulger from the Lock Stock & Barrel in Newbury. The final hand of the tournament was very much a roller-coaster. Richard's A3 was ahead of Dave's KJ pre-flop and on a flop of 232, but Dave spiked a K on the turn to be on course for a much needed double-up. But 'the river will deliver' as another 3 appeared to give Richard a full house and the South England title. Well played everyone and congratulations to Richard and the Half Moon!
Cash Prize Winners
1st Richard Morrell – Half Moon, Crawley
2nd Dave Foulger – Lock Stock & Barrel, Newbury
3rd Lee Haskell – Village, Bournemouth
4th Tom McVey – Three Crowns, Waddon
5th Lee Laurence – Testwood Hotel, Totton
6th Rob White – Queens Head, Gosport
7th Matt Brown – Old Farmhouse, Totton
8th Bob Richardson – Red Lion, Poole
National Final Qualifiers
Richard Morrell
Dave Foulger
Lee Haskell
Tom McVey
Lee Laurence
Rob White
Team Winners
Half Moon, Crawley