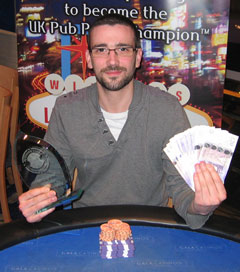 Leo's at Liverpool hosted our North West Two Regional Final which would see six lucky National Final qualifiers and eight lucky cash prize winners.
The tournament was under way a little before 2pm as we saw a fairly quiet first hour, seeing only a handfull of eliminations. Kevin Davies from the Swan Hotel, Prenton was the first to go and he was soon followed by Chris Roscoe, Neil Clowes and Dave Rhodes as the break neared.
After the break the tounament hit top gear as player after player hit the rail with the river often being the decisive card. A loud roar was heard on one table as AT matched up against JJ. The money went in on the turn on a xTx T board only to see the river bring a J.
The Team Event was won in convincing style by the Lever Club, Bebbington, with all three representatives finishing inside the top 30. The only pub to really challenge on the day was the Thatched House, Poulton le Fylde. It was a very succesfull day for the players from the Lever Club as two of the three made the final table. Our congratulations go to Sean Williams, Tony Van Eker and Mark Atkin.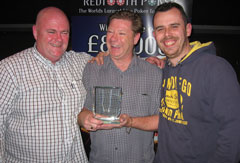 The final table of nine was a cagey affair as all remaining players were after one of those six seats. Eventually the bubble burst with Lindsey Walsh being the unlucky player as the hand prior to her elimination saw her AJ chop the pot against A4 which could of brought a much needed double up.
As we reached the heads-up stage, Noel Scott and Michael Baxter would battle for the £500 and the North West Two Regional Final trophy. Baxter went into the heads-up match with a huge stack meaning he couldn't really fold to any of Scott's all-in raises. The final hand saw Noel's A2 go up against Michael's J3, a final board of K27 3 K saw Michael Baxter from the Halfway House, Prentin crowned the newest champion of the North West.
Cash Prize Winners
1st Michael Baxter – Half Way House, Prentin
2nd Noel Scott – Cricketer's Arms, Sandbach
3rd Sean Williams – Lever Club, Bebbington
4th Tony Van Eker – Lever Club, Bebbington
5th Allan Youds – Bear & Staff, Liverpool
6th Chris Johnson – Cottage Loaf, Wirral
7th Lindsey Walsh – Queens Hotel, Lytham
8th John Bethel – Old England, Blackpool
National Final Qualifiers
Michael Baxter
Noel Scott
Sean Williams
Tony Van Eker
Allan Youds
Chris Johnson
Team Winners
Lever Club, Bebbington