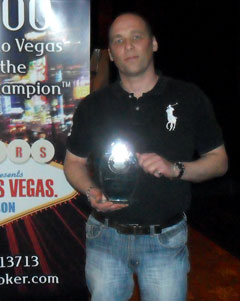 The fourth Regional Final for 2010/11 saw 179 players arrive for their last chance to qualify for this year's National Final at Dusk Till Dawn. For the first time the final was held on a Saturday and played at a new venue, Aspers Casino, Northampton.
Before play got underway the individual pub winners were presented with certificates and trophies, including, for the first time husband and wife winners, Craig Bowler from The Green Man, Lavendon and Abby Bowler from The Burnt Oak, Milton Keynes.
Play got underway promptly at 2.00pm and we did not have to wait long for our first casualty, Matthew Gregory of the Rovers Tye (Thursday) league who received the, by now, customary round of applause, coupled with a huge sigh of relief.
By the second break only four pubs remained in the team tournament which was eventually won by The Rovers Tye (Sunday) league team from Colchester consisting of Mike Gosling, Ricky Shafter and Adam Diss. All three finished in the top 30, Mike was 29th Ricky 24th and Adam 17th.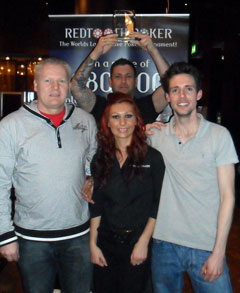 The final table was made up as follows;-
Jackie Sherwood – Peachcroft Social Club, Abingdon (30,000)
Chris Lomas – Phoenix, Steeple Claydon (120,000)
Rob McLoughlan – King William, Kings Lynn (40,000)
Clive Young – Kennington Sports & Social Club, Oxford (30,000)
Lisa Greer – Old Punch House, Ware (170,000)
Mick Sidney – Dragon(Wednesday), Peterborough (130,000)
Paul Lewis – Spencer Arms, Northampton (60,000)
Dean Desa – Burnt Oak, Milton Keynes (130,000)
Danny Livett – Buckinghamshire Yeoman, Aylesbury (80,000)
Richard Tuzinkiewicz – Redtooth Tavern, On-line (200,000)
Rob (10th), Clive (9th) and Danny (8th) were all eliminated quite quickly and as the evening progressed they were followed by Dean (7th), Lisa (6th) and Chris(5th).
The final four battled away, swapping chips (and some luck) for some time, eventually Paul was eliminated in 4th place and Mick followed in 3rd.
Jackie had started the table with the joint lowest stack, just 30,000, and now faced Richard who had started the final table in the lead with 200,000. After an exciting battle Richard finally came out the winner when his Ad Kh beat Jackie's Ah 9s. The flop came down 8d Qc 2s, the turn was decisive, Kd, giving Richard a pair, the river card, 6c helped no-one.
Congratulations and good luck to the top eight who all qualify for the National Final on 27th March.
A special mention to Richard Tuzinkiewicz who became the first Redtooth Tavern on-line qualifier to win a Regional Final, he will be joined at the final by his brother Chris who had already qualified at an earlier Regional Final.
Cash Prize Winners
1st Richard Tuzinkiewicz – Redtooth Tavern, On-line
2nd Jackie Sherwood – Peachcroft Social Club, Abingdon
3rd Mick Sidney – Dragon, Peterborough
4th Paul Lewis – Spencer Arms, Northampton
5th Chris Lomas – Phoenix, Steeple Claydon
6th Lisa Greer – Old Punch House, Ware
7th Dean Desa – Burnt Oak, Milton Keynes
8th Danny Livett – Buckinghamshire Yeoman, Aylesbury
National Final Qualifiers
Richard Tuzinkiewicz
Jackie Sherwood
Mick Sidney
Paul Lewis
Chris Lomas
Lisa Greer
Dean Desa
Danny Livett
Team Winners
Rovers Tye (Sunday), Colchester