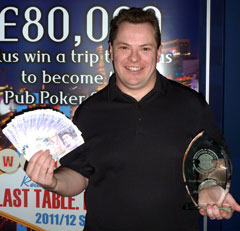 The Gala Casino in Bristol hosted the latest South West & South Wales Regional Final. A huge turnout of over 200 players were spread over multiple tables as they were all fighting for the 10 remaining National Final seats and eight cash prizes.
The tournament kicked off at 2pm and inevitably there were going to be a lot of disappointed players. None more so than the first bunch of players to hit the rail which included Matthew Stapleton, Mike Parkes and Jason Kemp. Unfortunately also eliminating all of their respective pubs from the Team Event.
It was a good day for Melksham Labour Club as they took the Team Event title with two of their three representatives making the final table on the day. Our congratulations go to Shaun Jenkins, Paul Barnett and George Robertson.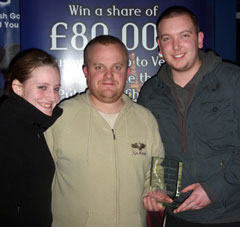 The final table of 10 would all make the National Final in Nottingham. Unfortunately two of the 10 would miss out on a cash prize and the unfortunate duo on this occasion were Mitch Rowlands from the Carters Rest, Swindon and Mark Haslam from the Chaddlewood Inn, Plymouth. The heads-up contest was between Simon Tetlow from the Club @ Cricklade, Cricklade and Matthew Hill from the Albany, Cardiff. The poker gods were with Simon Tetlow on the day as his 84 off suit rivered a flush against Matthew's Q9 suited. The final board ran out AK3 6 Q to give Simon the win and a fantastic glass trophy, £500 and a National Final seat.
Cash Prize Winners
1st Simon Tetlow – Club @ Cricklade, Cricklade
2nd Matthew Hill – Albany, Cardiff
3rd Shaun Jenkins – Melksham Labour Club, Melksham
4th Paul Barnett – Melksham Labour Club, Melksham
5th Chris M – Eliot Arms, South Cerney
6th Phillipe Mutty – Suzy Q's (Riley's), Gloucester
7th Rachel Hodson – Met, Bath
8th Stephen Farmer – Hollybush, Cardiff
National Final Qualifiers
Simon Tetlow
Matthew Hill
Shaun Jenkins
Paul Barnett
Chris M
Phillipe Mutty
Rachel Hodson
Stephen Farmer
Mark Haslam
Mitch Rowlands
Team Winners
Melksham Labour Club, Melksham