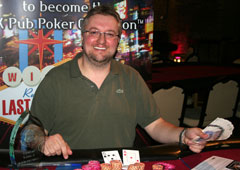 The Loose Cannon Club opened it's doors for a second consecutive weekend as the West Londoners were in town this time around.
A prompt start ensued as the chips and cards were flown across the tables. Ny Moughal had a day to forget as he was the first to be eliminated, Ny was swiftly followed by the experienced Steve D'Andrea from the Earl Beatty and rookie Michael Berry from the Fountain, New Malden.
The Blue Boar in Wantage had another good Regional Final as they almost took down the team event to follow up Stephen Beard's 1st place last season. The only venue to better the Blue Boar on the day were the Bonesgate trio in the shape of Iain Ross, Glyn Gentry and Michael Andreau.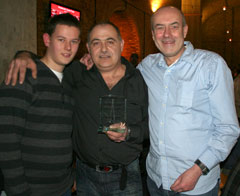 The final table was set as Sam Bowell from Riley's, Southend left the tournament area. The much anticipated line-up included the following players…
Seat 1: Anthony Davies – 41,000
Seat 2: Steve Lomax – 39,000
Seat 3: Max Younas – 186,000
Seat 4: Adam Soller – 127,000
Seat 5: Steve Smith – 113,000
Seat 6: Paul Lewington – 50,000
Seat 7: Luke Midwinter – 74,000
Seat 8: Adam Chandler – 45,000
Seat 9: Will Patey – 53,000
As only seven could qualify for the National Final two players would unfortunately miss out. Anthony Davies from the Staff Club in Didcot and Steve Lomx from the Earl of Cornwall in Slough couldn't maneuver their short stacks into the qualifying places as they came home in 9th & 8th place. Steve Smith from the George in Oxford and Will Patey from St Margarets in Twickenham battled their way through to the heads-up duel. Two big hands pre-flop saw the chips go in the middle as Smith's A5 went up against Patey's KT. The board ran out very favourably for Smith as a 347 9 2 board gave Steve Smith a straight and the title of West London Champion! Good luck in Nottingham.
Cash Prize Winners
1st Steve Smith – George, Oxford
2nd Will Patey – St Margarets, Twickenham
3rd Adam Soller – Prince of Wales, East Barnet
4th Paul Lewington – Parish's Club, London
5th Max Younas – White Hart, Hayes
6th Luke Midwater – Noble Vine, Walton on Thames
7th Adam Chandler – Butler's, High Wycombe
8th Steve Lomax – Earl of Cornwall, Slough
National Final Qualifiers
Steve Smith
Will Patey
Adam Soller
Paul Lewington
Max Younas
Luke Midwater
Adam Chandler
Team Winners
Bonesgate, Chessington