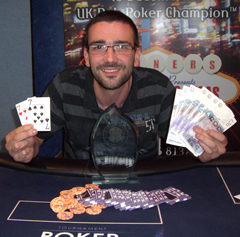 'Leo's' Casino in Liverpool hosted our North West Two Regional Final. Little did we know that later in the day Redtooth Poker history would be made….. £1,000 was shared between the top eight players with £500 'up top'.
137 players were sat down as 'shuffle up n deal' was announced at around 2pm. Paul Wright was the first player to hit the rail and Paul was soon joined by Alan Harrison from the George Scott Snooker Club in Liverpool. Several eliminations later the break was upon us, still with over 100 players looking to claim the North West Two region title.
After the break the pace picked up a little. Increasing blind levels forced more and more action and the chips were flying backwards and forwards across the felt. The Team Event was nearing a conclusion with the Seven Woods, Farmers Arms and Boars Head all in with a shout. Eventually the three lads from the Seven Woods Tuesday league prevailed. Our congratulations go to Steve Ritchie, Andrew Makin and Nick Cookson.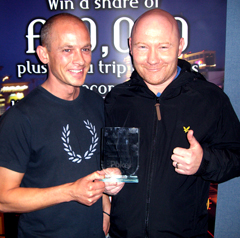 As the final table was reached, there were a couple of familiar faces. Last seasons champion, Michael Baxter, was once again looking in good shape as he went in with a healthy chip lead. Also making a second consecutive appearance was Sean Williams who was looking to build on last seasons 3rd place finish. The North West Two final table lined up as follows…
Seat 1: Michael Baxter – Halfway House, Birkenhead (175,000)
Seat 2: Neil Ratcliffe – Cricketers Arms, Sandbach (105,000)
Seat 3: Luke Lund – Stobart Stadium, Widnes (70,000)
Seat 4: Ben Scott – Alexanders, Chester (110,000)
Seat 5: Sean Williams – Lever Club, Bebbington (125,000)
Seat 6: Steve Boxall – Wheatsheaf, Frodsham (80,000)
Seat 7: Andrew Ferguson – Ship & Royal, Lytham (10,000)
Seat 8: Nick Cookson – Seven Woods, Warrington (40,000)
Our short stack, Andrew Ferguson, was quick to exit in 8th place which brought us onto the bubble. Luke Lund couldn't quite hang on for a National Final seat this time around, although £30 for his efforts should soften the blow slightly. Back to back finalist Sean Williams couldn't better his previous 3rd place as he left us in a respectable 6th place. Michael Baxter on the other hand was still in dominant form as he raced to the heads-up encounter with no real trouble. His opponent on this occasion was Neil Ratcliffe who was hoping to end Baxter's impressive run. However, the final hand saw Neil needing help from the poker gods as his A-9 was racing Baxter's 7-7. The final board of 6TK 4 T was of little help to Ratcliffe as Michael Baxter from the Halfway House in Birkenhead made Redtooth Poker history by becoming the first ever player to defend their Regional Final title. A big congratulations!
Cash Prize Winners
1. Michael Baxter – Halfway House, Birkenhead
2. Neil Ratcliffe – Cricketers Arms, Sandbach
3. Nick Cookson – Seven Woods, Warrington
4. Steve Boxall – Wheatsheaf, Frodsham
5. Ben Scott – Alexanders, Chester
6. Sean Williams – Lever Club, Bebbington
7. Luke Lund – Stobart Stadium, Widnes
8. Andrew Ferguson – Ship & Royal, Lytham
National Final Qualifiers
Michael Baxter
Neil Ratcliffe
Nick Cookson
Steve Boxall
Ben Scott
Sean Williams
Team Winners
Seven Woods, Warrington