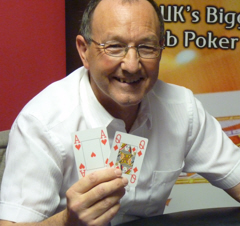 Shuffles once again hosted our South England regional final. Over 100 poker players were vying for six national final seats.
A number of players may have wished they could have re-started the tournament as the first group to hit the rail included Famous Old Pines' Tim Aiken, Cuckoo Pint's Andy Groth and the Bull's Sean McDonald. While last season's champion Paul Turner was back to try and defend his title.
The Team Event had familiar winners, the Half Moon in Crawley, who collected their second trophy in the past year. This time around they were represented by league champion Josh Walker, Darren Murphy and Will Dunlop.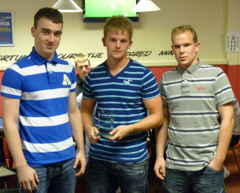 The South England final table:
Seat 1: Paul Turner – Lock Stock & Barrel, Newbury (142,000)
Seat 2: Andy Adey – Old Fat Cat, Southampton (97,000)
Seat 3: Paul Elkins – Swallow, Andover (41,000)
Seat 4: Paul Merrill – Regents Park Hotel, Southampton (105,000)
Seat 5: Carl Shipsey – Railway Tavern, Andover (84,000)
Seat 6: Rob Cook – Cuckoo Pint, Stubbington (55,000)
Seat 7: Daniel Pope – Mudeford Mens Club, Christchurch (70,000)
The final table went true to form for the most part with the big three stacks claiming the top three places. The unfortunate player to bubble the national final seats was Darren Murphy, although he still left with £20 in his back pocket. Once Andy Adey had hit the rail in 3rd place, we were heads-up with last season's champ Paul Turner and Paul Merrill. Last season, Turner won the title from starting the final as the short stack. This time, however, he started as the big stack and would go on to match his previous feat as the final hand saw his A-Q in great shape against Merrill's K-Q. A 2A6 flop all but ended the contest and with bricks on the turn and river, Paul Turner became only the second player in Redtooth history to successfully defend his regional final crown. Congratulations Paul Turner!
Cash Prize Winners
1. Paul Turner – Lock Stock & Barrel, Newbury
2. Paul Merrill – Regents Park Hotel, Southampton
3. Andy Adey – Old Fat Cat, Southampton
4. Daniel Pope – Mudeford Mens Club, Christchurch
5. Rob Cook – Cuckoo Pint, Stubbington
6. Paul Elkins – Swallow, Andover
7. Carl Shipsey – Railway Tavern, Andover
8. Darren Murphy – Half Moon, Crawley
National Final Qualifiers
Paul Merrill
Andy Adey
Daniel Pope
Rob Cook
Paul Elkins
Carl Shipsey
(Paul Turner – Already Qualified)
Team Winners
Half Moon, Crawley