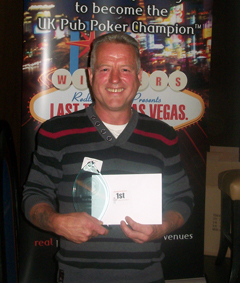 178 players rolled up to the Alea Casino, Leeds, on Sunday for the season 2 West Yorkshire Regional Final all hoping to win a place at next year's National Final where the players on the final table will be sent to Las Vegas to play for the top prize.

Play started promptly at 2.00pm and it wasn't long before we had our first casualty, Alan McGregor from the Black Bull in Leeds who received the traditional round of applause from 177 very relieved players.
Following the break a steady stream of eliminations took place and the prospect of an early finish was on the cards.
By about 7.30pm we were down to the final table, and the clear winners of the team trophy were announced, The Riverside Farm, York, whose team provided two players, Carl Elliott and Jamie Robertson, for the final table along with Stephen Hulston who finished in a very creditable 20th.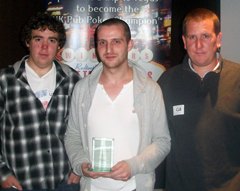 The eight players on the final table all qualify for the National Final. Having won the Team Trophy Jamie (8th) and Carl (7th) were the first two out on the final table. Danny Musgrave, Salt House Tavern, Hull finished in 6th and Andrew Gee, Spinks Nest, Huddersfield was 5th, this left the four players who had gone to the final table as the chip leaders.
Fairly aggressive play by all four players resulted in the chip lead swapping almost every hand, eventually Dave Marley, George Inn, Bridlington was eliminated in 4th place and Dean Wilson, Londsborough Arms, Market Weighton finished 3rd.
This left Steve Carlton, Flying Man, Pocklington and Les Smith, Ancient Foresters, Bradford to battle it out for the title. In a full house all-in battle Les Came out on top when his Ac, Qc defeated Steve's 10h, 7c with a flop of 5s, Qh, 7h, a turn of 7d put Steve in front but the river Qd gave the trophy and the title to Les.
Cash Prize Winners
1. Les Smith – Ancient Foresters, Bradford
2. Steve Carlton – Flying Man, Pocklington
3. Dean Wilson – Londesborough Arms, Market Weighton
4. Dave Marley – George Inn, Bridlington
5. Andrew Gee – Spinks Nest, Huddersfield
6. Danny Musgrave – Salts House Tavern, Hull
7. Carl Elliott – Riverside Farm, York
8. Jamie Robertson – Riverside Farm, York
National Final Qualifiers
Les Smith
Steve Carlton
Dean Wilson
Dave Marley
Andrew Gee
Danny Musgrave
Carl Elliott
Jamie Robertson
Team Winners
The Riverside Farm, York