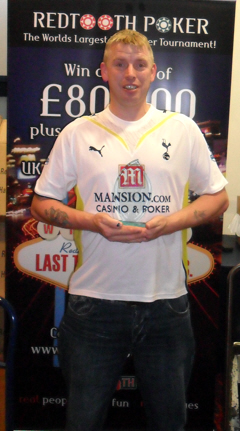 164 players arrived at the Circus Casino all hoping to win a seat at next year's National Final and a chance to play on the final table in Las Vegas.
Promptly, at 2.00pm, the call went out 'shuffle-up and deal' and battle commenced, unusually it took almost an hour for the first elimination, this dubious honour went to Matt Brooker of The Three Pigeons, Banbury.
After the break the trend was reversed and in what turned out to be one of the quickest Regional Finals on record, there was a steady stream of eliminations, by 7.00pm we were down to the final table, by 7.30pm it was all over and a new champion was crowned.
Winners of the Team Tournament, by a single point, were The Old Clarence, Coventry (Roger Fahey, Alan Brandist and Gaz Boyle) who just pipped The Winding Wheel, Cannock.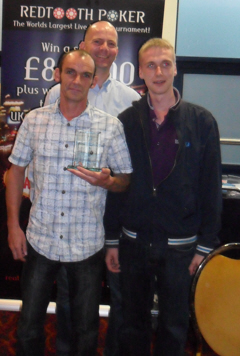 It seemed that players were being knocked out every other hand on the final table. The order of elimination was as follows;
10th Alan Brandist (Old Clarence, Coventry)
9th Paul Tobin (St Stephens WMC, Worcester)
8th Sam Brown (Winding Wheel, Cannock)
7th Justin Hughes (New Inns, Birmingham)
6th Malcolm Coleman (The Bull, Wolverhampton)
5th Granville Mills (Redtooth Tavern, Online)
Next to go in 4th place was Mark Whall from the Viaduct Tavern in Kidderminster who lost in what was probably the hand of the day. After calling Tom Lines all-in the cards were turned revealing Tom with a pair of 9's and Mark with A-J. Mark flopped a straight when Q, 10, K hit the table, however his joy was short lived when queens followed on the turn and river to complete an unlikely full house for Tom.
Andrew Swann from the Crown Members Club in Birmingham finished in 3rd spot whilst Tom Lines from the Merry Boys Inn in Wolverhampton finished as runner-up to a worthy winner, David Golding from the Spread Eagle, also in Wolverhampton.
Cash Prize Winners
1. David Golding – Spread Eagle, Wolverhampton
2. Tom Lines – Merry Boys Inn, Wolverhampton
3. Andrew Swann – Crown Members Club, Birmingham
4. Mark Whall – Viaduct Tavern, Kidderminster
5. Granville Mills – Redtooth Tavern, Online
6. Malcolm Coleman – The Bull, Wolverhampton
7. Justin Hughes – New Inns, Birmingham
8. Sam Brown – Winding Wheel, Cannock
National Final Qualifiers
David Golding
Tom Lines
Andrew Swann
Mark Whall
Granville Mills
Malcolm Coleman
Justin Hughes
Team Winners
The Old Clarence, Coventry