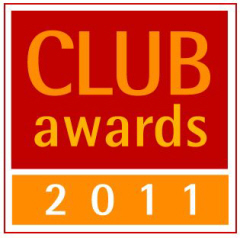 In the evening of November 10th 2011 Redtooth attended the Club Mirror Awards ceremony at the Palace Hotel in Manchester to present the trophy for the Redtooth sponsored category 'Poker Club Of The Year'! The awards ceremony recognizes the leading clubs in the UK in their specialized field and who better to sponsor and present the Poker Club Of The Year award than the UK's No.1 pub poker company, Redtooth Poker. The award on the night was presented by Redtooth's Poker Manager, Caroline Drury and was won by Dorset's Mudeford & District Mens Club.
The Mudeford & District's poker league has gone from strength to strength this past year with them finishing season 5.3 with 104 unique players playing at various points during the season and already in season 5.4 have had 76 unique players after only 2 weeks. They are certainly a worthy winner of the award.
Club Mirror Awards 2011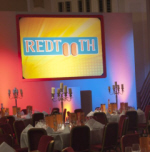 Clubs across Britain have been celebrated for the pivotal role they play in the community, and for their ability to provide a safe and convivial environment in which to socialise. From over 600 entries, finalists were singled out for excellence across 26 categories.
Club Mirror magazine, owner and organiser of the awards, has been an integral part of the club industry for over 40 years. The Awards are now in their 19th year and this year were presented by sports personality John Inverdale.
Head of Judges Caroline Scoular, said: "Against a backdrop of cheap supermarket drink, local pub closures and harsh trading conditions, clubs across the country have worked incredibly hard this year to constantly improve and provide a great offer for members. And they're succeeding.
" Many are key in championing their own grass roots sports activities, encouraging members young and old to participate in sports and fitness. Others have focused on building their entertainment programmes , enhancing their catering operations, refurbishing the clubhouse and facilities and keeping drink at sensible prices despite rising costs. We also honoured clubs for the hundreds of thousands of pounds they raise for charity across the year.
"We've bought in new awards this year to honour the commitment to sport and the crucial role that clubs play in encouraging the UK onto the pitches and out of their arm chairs. We've also incorporated more traditional activities which are seeing a huge resurgence in popularity. "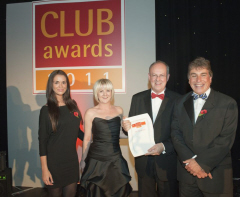 Publisher and Managing Director Sean Ferris said: " Now, more than ever, clubs are proving to be at the heart of the community and we're proud to have been working with them to secure this position for the past 43 years. Next year? Our determination – and theirs – will be even stronger. We'll continue to campaign and lobby to ensure that they remain where they should be, at the heart of the community, despite so many closures in other sections of the local area."
Congratulations to all winners!