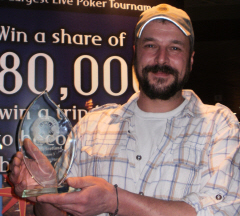 Saturday 26th November 2011
Time: 2:00pm
Venue: G Casino
Where: Aberdeen
Regional Final Winner: Craig Neate
Argyll Hotel, Ullapool
Team Event Winner: Ceres Inn
Julie Bone
Bruce McIntosh
Gordon Cuthill
The Carnage…
Fasten your seatbelts once again as the latest round of Redtooth Poker regional finals got under way on Saturday 26th November. Another 100+ players would be taking that one step closer to Las Vegas over the next few weekends. Will you be one of them?
Due to the absence of last season's champion Evan Ramsey, a new champion would be found. It would prove to be a day to forget for some players as some of the first to fall were long standing Redtooth members Colin Munro, Raymond Innes and Richard Arnott. Unsurprisingly the Aberdeen group dominated the day as they were representing 11 different pubs from that area! Add to that the home advantage and you get a force to be reckoned with.
After the first break we were looking for a Team Event winner. Last season's winners, the Coopers Bar, were once again present and hoping to take down another title. Unfortunately they all hit the rail within a very short space of time to take them out of the running. The outstanding venue on the day was the Ceres Inn who were led by finalist and current league champion Julie Bone. Bruce McIntosh and Gordon Cuthill both finished in the top 15 places to secure a comfortable win for the Ceres venue.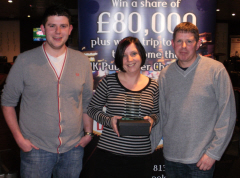 The Final Table…
Seat1: Arthur Norrie – Rack & Cue, Dundee
Seat2: Ella Miller – Kitty Brewster, Aberdeen
Seat3: Laura Duff – Imperial Bar, Cupar
Seat4: Roger Coutts – Mither Tap, Aberdeen
Seat5: Julie Bone – Ceres Inn, Ceres
Seat6: Jonathan Guest – Northern Bar, Aberdeen
Seat7: Craig Neate – Argyll Hotel, Ullapool
Seat8: Adis Delic – Granary, Elgin
Seat9: Mark Laing – Old School House, Aberdeen
Seat10: Brian Ross – Charlotte Bar, Aberdeen
As usual our Aberdeenshire friends made up 50% of the final table, with only one of them really making any inroads. That was the Kitty Brewster's Ella Miller who made it to the heads-up match along with the Argyll Hotel's Craig Neate. Jonathan Guest from the Northern Bar was enjoying his second consecutive final table, unfortunately Jonathan could only equal his last effort and finished in 7th place for a cool £30. The heads-up match came to an end when Ella's 9-3 matched up against Craig's J-3. With the remaining prize money of £700 being split 50/50, there was just the small matter of becoming North Scotland's latest pub poker champion to play for. A flop of 2-3-8 gave Craig the big lead he wanted and with a turn and river of 10-7, Ullapool's Craig Neate became our first regional final winner of the season! Congratulations Craig!
Cash Prize Winners
1. Craig Neate – Argyll Hotel, Ullapool
2. Ella Miller – Kitty Brewster, Aberdeen
3. Adis Delic – Granary, Elgin
4. Laura Duff – Imperial Bar, Cupar
5. Arthur Norrie – Rack & Cue, Dundee
6. Mark Laing – Old School House, Aberdeen
7. Johnathan Guest – Northern Bar, Aberdeen
8. Brian Ross – Charlotte Bar, Aberdeen
National Final Qualifiers
Craig Neate
Ella Miller
Adis Delic