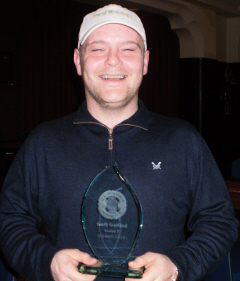 Sunday 27th November 2011
Time: 2:00pm
Venue: Gala Casino
Where: Edinburgh
Regional Final Winner: Steve Turner
IQue Cafe Bar – Glasgow
Team Event Winner: Old Brewery, Alloa
Davie Marr
Brian Young
Calum Rodgers
The Carnage…
Edinburgh hosted our South Scotland regional final once again as another group of Scottish players would be booking their place into next year's show piece at Dusk Till Dawn. Last season's champ Gavin Earle from the Abbey Granary was absent but the Elgin venue still had a strong showing with two finalists and another top 15 finish. The Old Brewery from Alloa made their debut last season with all three representatives hitting the rail early on. This season was a completely different story as they also had two finalists in the shape of Davie Marr and Brian Young. An 11th place finish by Calum Rodgers brought them from zero to hero in one season as the Old Brewery in Alloa won the South Scotland Team Event title in only their second Redtooth Poker season.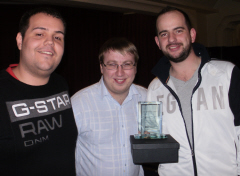 The Final Table…
Seat1: Brendan Martin – Abbey Granary, Edinburgh
Seat2: Steve Turner – IQue Cafe Bar, Glasgow
Seat3: Alistair McEwan – No. 2 Baker Street, Stirling
Seat4: Davie Marr – Old Brewery, Alloa
Seat5: Daniel Wright – Abbey Granary, Edinburgh
Seat6: Brian Young – Old Brewery, Alloa
Seat7: Reece Throop – No. 2 Baker Street, Stirling
Seat8: Adam McIvor – Wintergills, Glasgow
Steve Turner started the final table as the chip leader from the very popular IQue Cafe Bar, hoping to add an individual title to the dossier of the already two time Team Event winners. Davie Marr from the Old Brewery was the first to leave us in 8th place. Davie was quickly followed by Daniel Wright in 7th, Alaistair McEwan in 6th, Brendan Martin in 5th, Adam McIvor in 4th and the unfortunate player to bubble the national final seats was Reece Throop who came home in 3rd place. His £100 winnings should help soften the blow somewhat. Reece's elimination brought us to the heads-up stage where Brian Young would match up to Steve Turner. The final hand was a case of 'hows your luck?' as both players were dealt big heads-up hands. Steve's A-8 held a slight advantage against Brian's K-4, a flop of 5-8-2 put Steve in good shape and an A on the turn sealed the deal and after a meaningless 4 on the river, Steve Turner was crowned the new Redtooth Poker South Scotland regional champion!
Cash Prize Winners
1. Steve Turner – IQue Cafe Bar, Glasgow
2. Brian Young – Old Brewery, Alloa
3. Reece Throop – No. 2 Baker Street, Stirling
4. Adam McIvor – Wintergills, Glasgow
5. Brendan Martin – Abbey Granary, Edinburgh
6. Alistair McEwan – No. 2 Baker Street, Stirling
7. Daniel Wright – Abbey Granary, Edinburgh
8. Davie Marr – Old Brewery, Alloa
National Final Qualifiers
Steve Turner
Brian Young