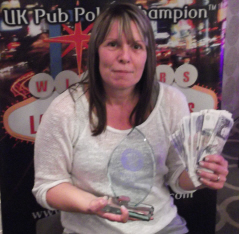 Sunday 4th December 2011
Time: 2:00pm
Venue: Alea Casino
Where: Nottingham
No. of Players: 189
Regional Final Winner: Debbie Percy
Mundy Arms, Heanor
Team Event Winner: Gate Inn, Burton-upon-Trent
Steven Bell
Chris Robson
Chris Gray


The Carnage…
So play got under way at the usual 2pm with a much higher than expected turnout. The first hour was a cagey affair for everyone but Matthew Collier, Matthew was straight in and out after only playing one hand. Perhaps he can improve on that next time around? With only having half a dozen leaving us before the break, complete carnage was expected after. The Team Event went on until after the second break but ended with a fairly convincing winner. Three top 30 finishers from Steven Bell, Chris Robson and Chris Gray made the Gate Inn in Burton-upon-Trent the new champion pub in the East Midlands region.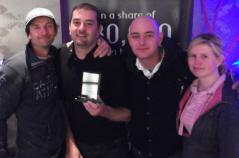 The Final Table…
Seat 1: Dale Baker – Chartwell Arms, Leicester (155,000)
Seat 2: Ian Holman – White Lion, Nottingham (55,000)
Seat 3: Mark Dean – Fairham Hotel, Clifton (100,000)
Seat 4: John Wheatley – Stumble Inn, Long Eaton (105,000)
Seat 5: Tom Maleham – Green House, Belper (190,000)
Seat 6: Bob Roberts – Goose, Nottingham (65,000)
Seat 7: Scott Oxford – Chequers, Hucknall (135,000)
Seat 8: Adam Bone – Boot & Slipper, Alfreton (35,000)
Seat 9: Debbie Percy – Mundy Arms, Heanor (70,000)
With only eight National Final seats and cash prizes available, there would be one more player leaving us disappointed. After a couple of double-ups from some of our short stacks, the bubble was soon to be broken. Mark Dean was on his way to following the double-up trend until his opponent turned a two outer on him. That put everyone else one step closer to Las Vegas, including the only female player remaining, Debbie Percy. Debbie, the short stack for most of the final table and with her never say die mentality grinded her way through the field with some well timed moves that Lionel Messi would have been proud of. A final table that was five handed for some time soon became heads-up. Bob Roberts from the Goose in Nottingham would be Debbie's opponent. A very even chip stack meant it could be over at any time, and indeed it was as an all-in and call was announced with Debbie tabling A-8 and Bob 3-3. An 8 in the window followed by four bricks left Bob with just 50,000 in chips and Debbie with a chip stack taller than she was. One hand later a new East Midlands champion was crowned. Her name is Debbie Percy and she leaves us with £500, a crystal glass trophy and a seat in next year's Redtooth Poker National Final.
The Winners…
Cash Prize Winners
1. Debbie Percy – Mundy Arms, Heanor
2. Bob Roberts – Goose, Nottingham
3. Ian Holman – White Lion, Nottingham
4. Scott Oxford – Chequers, Hucknall
5. John Wheatley – Stumble Inn, Long Eaton
6. Dale Baker – Chartwell Arms, Leicester
7. Tom Maleham – Green House, Belper
8. Adam Bone – Boot & Slipper, Alfreton
National Final Qualifiers
Debbie Percy
Bob Roberts
Ian Holman
Scott Oxford
John Wheatley
Dale Baker
Tom Maleham
Adam Bone