SUNDAY 4TH MARCH
SHUFFLES – PORTSMOUTH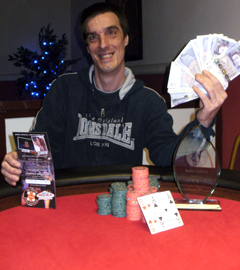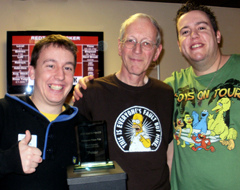 THE ACTION
Over 100 players were seated in Shuffles, Portsmouth for another Redtooth Poker regional final. Another six qualifiers would be invited to Nottingham for a shot at a week in Las Vegas for our national final.
Pete Tate and Darren Murphy were amongst the first group of players to hit the rail before the break. After the break we were heading towards a team event winner.
The Regent Park's two finalists was enough to see them take the team trophy away from the Salterns Working Mens Club. Geof Walker, Paul Merrill and Lewis Potter were Team Regent on the day.
THE FINAL TABLE
Seat 1: Steve Johnson – Old Farmhouse, Southampton (179,000)
Seat 2: Geof Walker – Regents Park, Southampton (127,000)
Seat 3: Matt Holton – Moby Dicks, Weymouth (39,000)
Seat 4: Gaynor Crowley – Admiral Hardy, Weymouth (29,000)
Seat 5: Dan Hope – Stourvale, Christchurch (66,000)
Seat 6: David Crease – Locomotive, Little Hampton (20,000)
Seat 7: Martin Taylor – Red Lion, Poole (58,000)
Seat 8: Eamonn Callan – Bridge Inn, Southampton (41,000)
Seat 9: Paul Turner – Lock Stock & Barrel, Newbury (48,000)
Seat 10: Paul Merrill – Regents Park Hotel, Southampton (85,000)
This final table saw the return of two time champion Paul Turner who was looking for his third regional final title. Unfortunately for Paul it wasn't to be as he hit the rail in 8th place. Steve Johnson made the national final in 7th place due to Paul Merrill having already qualified for Nottingham. Once Matt Holton had left us in 3rd place, Eamonn and Martin were left to fight for the title. The final hand saw the best hand hold up as Eamonn's A-5 went up against Martin's 6-8. A board of 5-8-A gave both player's a piece of it, but a K and a Q on the turn and river gave the Bridge Inn in Southampton their first regional final winner in the shape of Eamonn Callan.
THE WINNERS
1. Eamonn Callan – Bridge Inn, Southampton
2. Martin Taylor – Red Lion, Poole
3. Matt Holton – Moby Dicks, Weymouth
4. Dan Hope – Stourvale, Christchurch
5. Paul Merrill – Regents Park Hotel, Southampton
6. David Crease – Locomotive, Little Hampton
7. Steve Johnson – Old Farmhouse, Southampton
8. Paul Turner – Lock Stock & Barrel, Newbury