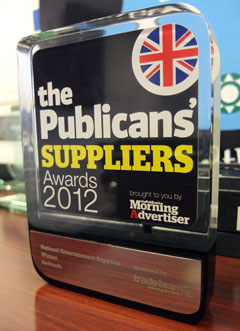 Redtooth won an award for the Best Entertainment Business 2012 at the pub industry Oscars at the end of March, beating stiff competition from the global entertainment giant, Sky TV.
The Publican Awards were held at The Grosvenor House Hotel on Park Lane in London at a glittering pub industry event on Tuesday evening hosted by the comedian Jimmy Carr and the industry trade magazine, the Morning Advertiser.
Voted for by licensees and pub operating companies, Redtooth scored highly for its weekly pub quizzes and pub poker tournament for driving customers into pubs and increasing their business profitability.
Redtooth, based in Barlborough, Derbyshire employs 20 employees and has been running pub quizzes since 1998 and the national UK Pub Poker tournament since 2007 and has attracted a huge following from thousands of pubs from the Orkneys to Penzance.
Managing Director for Redtooth, Martin Green commented: "This award has blown us all away and I want to thank the entire Redtooth team for all their hard work.
"The whole ethos of our business is about driving people into pubs for a great night out: I have been creating quizzes for over 20 years and at Redtooth we know what makes a great pub quiz work. We applied the same understanding to our live pub poker business and it's been a huge hit for licensees and their customers. We keep things simple for the operator and we keep customers in the pub for the evening.  As the world's largest live poker tournament, we are always looking at enhancing the experience for our customers and at the end of the 2012 poker season, we will be flying out 100 people to Las Vegas for our National Final.

"There's been a lot of talk about food being the big focus for pubs but operators mustn't overlook the fact that people also go to pubs to be entertained. We're offering a cost effective solution to those quiet week nights."