Stop Press – for the latest updates and video reports from Las Vegas – check out our youtube channel and Facebook page at:
//www.facebook.com/redtoothpoker and  //www.youtube.com/redtoothpoker
---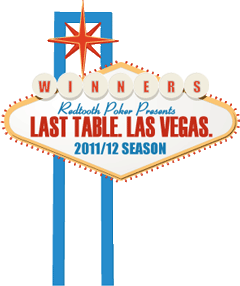 INTRODUCTION
Las Vegas anyone? I'd imagine 134,559 Redtooth Poker members wouldn't say no. Well that was the big prize on offer on this fabulous sunny day at Dusk Till Dawn in Nottingham, and also an indication of what Redtooth Poker has become in the five excellent years of it's existence. Nine players would leave the building at some point in the evening of Sunday 25th March having won a prize that is every poker players dream… a week in Las Vegas with flights, accommodation and breakfast all on Redtooth! Welcome to the 2011/12 Redtooth Poker National Final.
Fun Fact: Furthest player north was Craig Neate of the Argyll Hotel in Ullapool – 495 miles one way.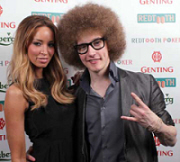 As 9:00am passed the queue outside this prestigious venue was forming. Almost 400 players travelled from all corners of the UK to one of Europe's largest poker venues, Dusk Till Dawn, in Nottingham with glamour model and TOWIE star, Lauren Pope and TV quiz professional Mark Labbett on hand to add some star quality to the proceedings. The players and guests were also entertained by upcoming magician Afromagic who displayed some dazzling card tricks throughout the day. Lauren Pope and Mark Labbett were also going to be present later in the evening for photos with our eventual nine Las Vegas qualifiers and to present them with their ticket and a bottle of champagne.
Fun Fact: The best represented city was London with 55 players from within the M25.
'SHUFFLE UP 'N' DEAL'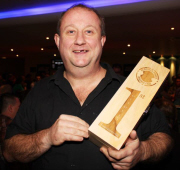 'Shuffle up n deal' was once again announced by Tournament Director Simon Trumper as the excitement and tension was felt all across the card room. Almost exactly one minute later we had lost our first player, Paul Abbott who plays at the Hilly House in Dudley hit the rail to a huge round of applause after his K-K ran head first into A-A, which unfortunately for Paul, didn't bring our first outdraw of the day. Paul later received a bottle of wine in a wooden box emblazoned '1st out of the tournament' as a nice consolation prize, better luck next time!
Fun Fact: 10% of the players at this National Final were female.
Not long after the rail became much more populated which included our oldest ever regional final champion Fred Copley, aged 83, and previous West London champion Jamiee Dickinson as they both made early exits. Last year's winner, David Cheesman, who is the only UK Pub Poker Champion to re-qualify the following year made a good fist of his defence but ultimately fell short in 107th position. The previous nights RPCT winner, Carl Shipsey, carried on his good form with a top 100 finish in 81st place as the business end of the tournament was fast approaching.
Fun Fact: The best represented pub was the Mulberry Tree in Warrington with four players.
Once the final 20 players were reached the players' thoughts could start turning to the prospect of a trip to Las Vegas as they were only an hour or two away after all. We still had a couple of reigning champions in the field in Richard Arnott our North Scotland champion and Nigel Hardy who is the current East Midlands champion, both held healthy chip stacks at this point. Nigel even became one of our chip leaders when his A-A found a dream scenario with another player picking up K-K, doubling Nigel up.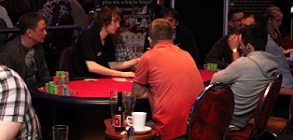 Following a short break with only 13 players left we were soon on the bubble as Mervyn Allen, Paul Smith and Malcom Coleman left us in 13th, 12th and 11th place respectively. In what was expected to be a very long bubble it was soon burst as Craig Evans from the Winding Wheel in Cannock soon followed Malcom in 10th place as all players and rail birds crowded around the table to see the final hand of the evening. The remaining nine players all cheered and breathed a huge sigh of relief in the comfort of knowing they had made the Last Table, Las Vegas trip.

LAST TABLE, LAS VEGAS PLAYERS & CHIP COUNTS
1. 393,500 Dean Dunkerley – Player's Lounge, Sheffield
2. 317,000 Andrew Gee – Spink's Nest, Huddersfield
3. 274,000 Neil Pitchford – Dolphin, Thetford
4. 216,500 Richard Arnott – Imperial Bar, Cupar
5. 169,000 Richard Breakwell – Cleveland Arms, Wolverhampton
6. 167,000 Richard Hoodless – Bull's Head, Stapleford
7. 151,000 Nigel Hardy – Davy Lamp, Ilkeston
8. 147,500 Paul Broughton – Chartwell Arms, Leicester
9. 115,000 Andrew Seymour – Moby Dick, Weymouth
FINAL TABLE SEAT DRAW
Seat 1: Richard Breakwell
Seat 2: Richard Arnott
Seat 3: Andrew Seymour
Seat 4: Richard Hoodless
Seat 5: Nigel Hardy
Seat 6: Andrew Gee
Seat 7: Dean Dunkerley
Seat 8: Neil Pitchford
Seat 9: Paul Broughton
All eyes are now on Sunday 13th May as the final table takes place in Las Vegas, Nevada with the new UK Pub Poker Champion being crowned later that day. Good luck guys!
NATIONAL FINAL FINISHING POSITIONS
| | |
| --- | --- |
| 10 | Craig Evans |
| 11 | Malcom Coleman |
| 12 | Paul Smith |
| 13 | Mervyn Shaun Allen |
| 14 | Paul Bailey |
| 15 | Orlando Antoine |
| 16 | Daniel Lummis |
| 17 | Bojan Nastic |
| 18 | Gary Wilson |
| 19 | Richard Meek |
| 20 | Phill Benton |
| 21 | Steve Haynes |
| 22 | Philip Connerton |
| 23 | Wayne Maunder |
| 24 | Diana Van Dyk |
| 25 | Stuart Lees |
| 26 | David Marley |
| 27 | David Pearson |
| 28 | Sebastian Walicki |
| 29 | Ray Coates |
| 30 | Joseph Rolls |
| 31 | Gary Hulks |
| 32 | Andrew Macmillan |
| 33 | Jason Hall |
| 34 | Michael Nowak |
| 35 | Kevin Haycock |
| 36 | Alan Tate |
| 37 | Steven Smith |
| 38 | Samuel Round |
| 39 | Chris Roberts |
| 40 | David Crease |
| 41 | Calvin Cobby |
| 42 | Michael Whittington |
| 43 | Mark Cartlidge |
| 44 | Gary Myerscough |
| 45 | Gavin Pennington |
| 46 | Scott Oxford |
| 47 | Mark Forster |
| 48 | Mark Crowley |
| 49 | Karin Willis |
| 50 | Neil Ratcliffe |
| 51 | Sam Johnson |
| 52 | Dave Fry |
| 53 | Darren Sanderson |
| 54 | Leon Cloherty |
| 55 | Deborah Griffiths |
| 56 | Andrew Swann |
| 57 | Russell Pollington |
| 58 | Ian Vayro |
| 59 | Samuel Byrne |
| 60 | Ian Mckay |
| 61 | Tom Lines |
| 62 | Bernard Wright |
| 63 | Abdul Majed Majed |
| 64 | Stacey Price |
| 65 | Justin Hughes |
| 66 | Mark Mcnamara |
| 67 | Chris Wildgust |
| 68 | Donna Stanton |
| 69 | Jason Wakeling |
| 70 | Kamran Tirmizey |
| 71 | John Smith |
| 72 | Stuart Bellis |
| 73 | Lee Baker |
| 74 | Gordon Sanders |
| 75 | Mark Wilton |
| 76 | Michael Milne |
| 77 | Matthew Prisk |
| 78 | Lee Pearce |
| 79 | Malcolm Downes |
| 80 | Matt Knight |
| 81 | Carl Shipsey |
| 82 | Paul Goodwin |
| 83 | Dan Pollard |
| 84 | Steven Forbes |
| 85 | Jamie Johnson |
| 86 | Peter Brocklehurst |
| 87 | James Mellor |
| 88 | Kevin Trent |
| 89 | Keith Brown |
| 90 | Mitch Rowlands |
| 91 | Peter Kemp |
| 92 | Larry Biggs |
| 93 | John Graham Wallace |
| 94 | Daniel Karythis |
| 95 | Richard Makin |
| 96 | Shaun Wallace |
| 97 | David Cree |
| 98 | Nick Cookson |
| 99 | Jim Mcsweeney |
| 100 | Daniel Beswick |
| 101 | Andrew Lawson |
| 102 | Shaun Hayes |
| 103 | Kerrison Collier |
| 104 | Sam Peck |
| 105 | Genine Taylor |
| 106 | Nicolas Lumb |
| 107 | Anthony Faulkes |
| 108 | David Cheesman |
| 109 | Paul Desousa |
| 110 | Jamie Grayson |
| 111 | Anne Pell |
| 112 | Raj Jiven |
| 113 | Adam Parrinder |
| 114 | Edward Green |
| 115 | Dean Hendry |
| 116 | Steven Carlton |
| 117 | Daniel Souster |
| 118 | Tom Maleham |
| 119 | Benjamin Scott |
| 120 | Richard Lewis |
| 121 | Andrew Johnson |
| 122 | Ashley Knowles |
| 123 | Kevin Beaufils |
| 124 | Ciaran Whelan |
| 125 | George Greer |
| 126 | Thomas Hill |
| 127 | John Mann |
| 128 | Andy Adey |
| 129 | Jamie Robertson |
| 130 | Michael Taynton |
| 131 | Neil Lancaster |
| 132 | Peter Sharp |
| 133 | Stephen Flynn |
| 134 | Patrick Allen |
| 135 | Malcolm Snashall |
| 136 | Dusan Porubsky |
| 137 | Paul Priestley |
| 138 | Dean Walmsley |
| 139 | Ismail Niyazi |
| 140 | Sean Williams |
| 141 | Jason Thompson |
| 142 | Paul Murphy |
| 143 | Daniel Walker Walker |
| 144 | Christopher Brown |
| 145 | Michael Heindel |
| 146 | Ronald Fleming |
| 147 | Huw Roberts |
| 148 | Martyn Jenkins |
| 149 | James French |
| 150 | Kevin Whibley |
| 151 | Darren Mapley |
| 152 | Sean Lyons |
| 153 | Stuart Allen |
| 154 | Marjory Ritson |
| 155 | Helen Jones |
| 156 | Jason Hinsley |
| 157 | Paul Swash |
| 158 | Nicholas Bancroft |
| 159 | Simon Stubbings |
| 160 | Jon Nicholls |
| 161 | Rob Purser |
| 162 | Kate Rhian Taylor |
| 163 | Lyndon Horton |
| 164 | Evelyn Williams |
| 165 | Jonathan Clarke |
| 166 | Laurence Morris |
| 167 | Judith Hoy |
| 168 | Stephanie Winckley |
| 169 | Antonio Prado |
| 170 | Craig Mcdonald |
| 171 | Carl Daniels |
| 172 | Carol Jenkins |
| 173 | Tan-tai Ellul-nguyen |
| 174 | Carl Sullivan |
| 175 | Mark Harrison |
| 176 | Ian Holman |
| 177 | Kieran Walker |
| 178 | William Powell |
| 179 | John Allam |
| 180 | Dean Garratt |
| 181 | Stefano Paganuzzi |
| 182 | Chris Owen |
| 183 | Geoffrey Walker |
| 184 | John Jackson |
| 185 | Carol Boulton |
| 186 | Graham Smith |
| 187 | Thomas Leslie Smith |
| 188 | Alan Holland |
| 189 | John Barker |
| 190 | Stephen Harris |
| 191 | Paul Elkins |
| 192 | Sean Boylan |
| 193 | Josh Watterson |
| 194 | Mahesh Kanji |
| 195 | Philip Simmons |
| 196 | Thomas Lees |
| 197 | Gary Musgrove |
| 198 | Matthew Graham |
| 199 | Lisa Greer |
| 200 | Ian Bratley |
| 201 | Ricky Schaffter |
| 202 | Daniel Timms |
| 203 | Ian Preece |
| 204 | Keith Richards |
| 205 | Daniel Wiseman |
| 206 | Bob Roberts |
| 207 | Daniel Mitchell |
| 208 | Colin Clayton |
| 209 | Paul Brugnola |
| 210 | Jason Wootton |
| 211 | Christopher Conibere |
| 212 | Andrew Waugh |
| 213 | John Fisher |
| 214 | Kevin Palmer |
| 215 | Aaron Ali |
| 216 | Lisa Houghton |
| 217 | Adrian Bambrough |
| 218 | Steve Dawson |
| 219 | Andy Smith |
| 220 | Steven Braithwaite |
| 221 | Paul Baker |
| 222 | David Golding |
| 223 | Shaun Derrick |
| 224 | Keith Lawrence |
| 225 | Mark Whall |
| 226 | Hugh Hall |
| 227 | Tracey Roberts |
| 228 | Scott Connell |
| 229 | Steven Taylor |
| 230 | Liam Kelk |
| 231 | Dean Wilson |
| 232 | Jason Cross |
| 233 | Steve Davies |
| 234 | Adrian Clark |
| 235 | Michael Paterson |
| 236 | Alan Petch |
| 237 | Dafydd Thomas |
| 238 | James Mann |
| 239 | Paul Turner |
| 240 | Matthew Wadsworth |
| 241 | Nicholas Clifford |
| 242 | Robert Dabrowski |
| 243 | Paul Bishop |
| 244 | Nicholas Horbury |
| 245 | Peter Britton |
| 246 | Mark Jones |
| 247 | Christopher Baron |
| 248 | Tracy Clark |
| 249 | Joe Williams |
| 250 | Eamonn Callan |
| 251 | Sophie Rigali |
| 252 | Janice Bailey |
| 253 | Nicholas Rawlings |
| 254 | Jake Garside |
| 255 | Gareth Deighton |
| 256 | Richard Tuzinkiewicz |
| 257 | Emma Abel |
| 258 | Danny Musgrave |
| 259 | Thomas Goddard |
| 260 | Clive Young |
| 261 | Brandon Slater |
| 262 | Alan Kirkby |
| 263 | Mark Quinn |
| 264 | Philippa Stanbridge |
| 265 | Andrew Chatwin |
| 266 | Calum Farmar |
| 267 | Paul Merrill |
| 268 | Janet Tulloch |
| 269 | Craig Batten |
| 270 | Carl Elliott |
| 271 | Roy Bean |
| 272 | James Lynch |
| 273 | Barry Fry |
| 274 | Shawn Brown |
| 275 | Malcolm Terry Sutcliffe |
| 276 | Isabella Millar |
| 277 | Howard Dawber |
| 278 | Ian Russell |
| 279 | Alec Pupkis |
| 280 | Stuart Weston |
| 281 | Karl White |
| 282 | Colin Quick |
| 283 | Sean Pipkin |
| 284 | Dean Mobley |
| 285 | Jamie Donovan |
| 286 | Calum Tait |
| 287 | Jamie Carswell |
| 288 | Alex King |
| 289 | Linzi Cottam |
| 290 | Debbie Percy |
| 291 | Patrick Buchanan |
| 292 | Noel Ithurralde |
| 293 | Andrew Jankowski |
| 294 | Steve Mulcair |
| 295 | Graeme Beaton |
| 296 | Darren Cotterell |
| 297 | Daniel Williams |
| 298 | Lyndsey Hickton |
| 299 | Stephen Manning |
| 300 | Stephen Johnson |
| 301 | Neil Cole |
| 302 | Richard Taplin |
| 303 | Lisa Snook |
| 304 | Brett Karat |
| 305 | Sam Fletcher |
| 306 | James Cox |
| 307 | Daniel Oneill |
| 308 | Sam Bonney |
| 309 | Neil Vigor |
| 310 | Clare Todd |
| 311 | Kevin Linton |
| 312 | Adam Taylor |
| 313 | Terry Barnes |
| 314 | Sean Griffin |
| 315 | Mark Gwynne |
| 316 | Rbert Page |
| 317 | Ciaran Curran |
| 318 | Emily Bell |
| 319 | Jamie Dunn |
| 320 | Michael Baxter |
| 321 | Darren Lee |
| 322 | James Barlow |
| 323 | Daisy French |
| 324 | Samuel Hardy |
| 325 | Ronald Fields |
| 326 | Glenn Brown |
| 327 | Ben Tunnicliff |
| 328 | Tarra Moore |
| 329 | Jennifer Olden |
| 330 | Gary Smith |
| 331 | William Patey |
| 332 | Gabor Berecz |
| 333 | Howard Wilson |
| 334 | Luke Bentley |
| 335 | Adam Bone |
| 336 | Derrick Lancaster |
| 337 | Harry Sohal |
| 338 | Paul Brookes |
| 339 | James Robinson |
| 340 | Joseph Toussaint |
| 341 | Peter Bullimore |
| 342 | Richard Wing |
| 343 | Richard Olaneye |
| 344 | Simon O'brien |
| 345 | Emma Erwin |
| 346 | Stephen Mukasa |
| 347 | Craig Greenway |
| 348 | Alex Little |
| 349 | Colin Booth |
| 350 | Lavinia Dawson |
| 351 | Roy Forster |
| 352 | Paul Robertson |
| 353 | Steven Thompson |
| 354 | Richard Wilson |
| 355 | Michael Bell |
| 356 | Peter Webb |
| 357 | Ashley Bristow |
| 358 | Richard Prescott |
| 359 | Kerry Tature-green |
| 360 | Andrew Stewart |
| 361 | Joe Stephenson |
| 362 | Rod Williams |
| 363 | Phil Parker |
| 364 | Thomas Chetwynd |
| 365 | Kevin Mears |
| 366 | Christopher Ware |
| 367 | Geoffrey Ward |
| 368 | Michael Latter |
| 369 | David Gray |
| 370 | Neil Prosser |
| 371 | Kenneth Melton |
| 372 | Daniel Jacques |
| 373 | Ross Eley |
| 374 | Graeme Garioch |
| 375 | Kieren Whatley |
| 376 | Jaimee Dickinson |
| 377 | Granville Mills |
| 378 | Aaron Clapperton |
| 379 | John Wheatley |
| 380 | Matt Dawson |
| 381 | Daniel Barclay |
| 382 | Martin Hodgson |
| 383 | Andrew Hiew |
| 384 | Fred Copley |
| 385 | Martin Sopp |
| 386 | Nathan Hatwell |
| 387 | Paul Abbott |