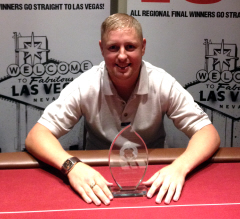 THE REPORT
Our second Welsh Vegas package winner in consecutive days was identified on a smoking hot day as the building had to be evacuated because of a fire in the casino. Three semi final seats were also awarded and £500 was shared between 2nd – 8th.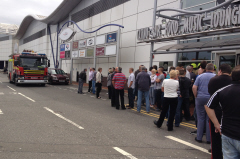 THE FINAL TABLE
Seat 1: Mark Jewell – Courthouse, Caerphilly (33000)
Seat 2: Christine Harries – Man of Gwent, Newport (39500)
Seat 3: Daniel Thomas – Darran, Risca (138500)
Seat 4: Peter Shaw – Myrtle Grove, Risca (8000)
Seat 5: Dean Evans – Club Lennox, Bargoed (21000)
Seat 6: Gavin Powell – Cwmbran Celtic Sports Club, Cwmbran (95000)
Seat 7: Stephen Musty – New Inn, Cardiff (13000)
Seat 8: Robert Coleman – Courthouse, Caerphilly (19000)
Seat 9: Martyn Jenkins – Harlequin, Gwent (34000)
Seat 10: Alex Simpson – Harlequin, Gwent (34000)
The final table started with a huge stack in Daniel Thomas and a super short stack in Peter Shaw. The two Harlequin finalists started the final table next to each other and held the same chip stack as Martyn Jenkins and Alex Simpson both reached the semi final in 4th and 3rd respectively. The heads-up match was between the two big stacks Daniel and Gavin. The final hand was a dream for Gavin as his J-6 smashed a board of 6-J-10-6-2 against Daniel's Q-2. Congratulations Gavin Powell!
VEGAS 100 QUALIFIER
1st Gavin Powell – Cwmbran Celtic Sports Club, Cwmbran
SEMI FINAL QUALIFIERS & CASH PRIZE WINNERS
2nd Daniel Thomas – Darran, Risca
3rd Alex Simpson – Harlequin, Gwent
4th Martyn Jenkins – Harlequin, Gwent (34000)
CASH PRIZE WINNERS
5th Mark Jewell – Courthouse, Caerphilly
6th Robert Coleman – Courthouse, Caerphilly
7th Peter Shaw – Myrtle Grove, Risca
8th Christine Harries – Man of Gwent, Newport