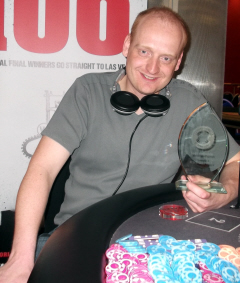 THE REPORT
201 excited individuals all sat down with the same goal in mind, a trip to the poker capital of the world, Las Vegas! But only one would leave with the ticket. Seven cash prizes and eight semi final seats were also up for grabs.
The tournament started in good time with quite a few players leaving us early. Pat Buchanan, Phil Burford and Scott Hadley were amongst the first group of players to leave before the break.
Poker in the Park champion Brandon Slater, who was wearing the brightest shoes ever, had a deep run but ultimately fell short in 45th position.
THE FINAL TABLE
Seat 1: Martin Pickard – Chase Hotel, Nuneaton (198000)
Seat 2: Phil Walker – Beacon, Telford (72000)
Seat 3: Stuart MacLean – Bay Horse, Stourport on Severn (96000)
Seat 4: Shaun Blackshaw – Royal Oak, Rising Brook (110000)
Seat 5: Chris Baker – Woodmans Rest, Shirley (135000)
Seat 6: Gary Hurst – West Heath Snooker Club, West Heath (62000)
Seat 7: Steven Broadhead – Golden Hind, Birmingham (52000)
Seat 8: Simon Lewis – Bell Inn, Coventry (192000)
Seat 9: Lee Reynolds – Master Potter, Cheadle (20000)
Seat 10: Bruce Hamilton-Webb – National Hunt, Cheltenham (103000)
A 10 seater final would leave one player leaving us empty handed. Short stack Lee Reynolds was out within 5 minutes to give the remaining 9 players a prize. Shaun Blackshaw finished in 9th to claim the first semi final spot with Chris Baker finishing 8th to win a cash prize as well as a semi final seat. Other winners were Bruce Hamilton-Webb in 7th, Gary Hurst in 6th, Simon Lewis was out in 5th and Steven Broadhead 4th. Once Steven MacLean hit the rail in 3rd place we had a heads-up match between Martin Pickard and Redtooth debutant Phil Walker. Phil started as the big stack and soon mopped up the rest of the chips as his A-5 kept it's pre-flop advantage against Martin's 10-6. The final board was 9-5-8-8-K. Congratulations Phil Walker, having played an excellent final table he will certainly be a player to watch out for in Las Vegas!
VEGAS 100 QUALIFIER
1st Phil Walker – Beacon, Telford
SEMI FINAL QUALIFIERS & CASH PRIZE WINNERS
2nd Martin Pickard – Chase Hotel, Nuneaton
3rd Stuart MacLean – Bay Horse, Stourport on Severn
4th Steven Broadhead – Golden Hind, Birmingham
5th Simon Lewis – Bell Inn, Coventry
6th Gary Hurst – West Heath Snooker Club, West Heath
7th Bruce Hamilton-Webb – National Hunt, Cheltenham
8th Chris Baker – Woodmans Rest, Shirley
SEMI FINAL QUALIFIERS
9th Shaun Blackshaw – Royal Oak, Rising Brook