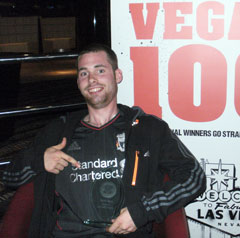 THE REPORT
Genting Club in Liverpool hosted our North West Two regional final with 136 players hoping to win a Las Vegas trip next year!
The first player out was Andrew Johnson from the Butcher's Arms in Warrington. Andrew lasted a whole 5 minutes but it was undoubtedly the best 5 minutes of his life!
Previous champion Tarra Moore made a second final table in 3 seasons as she was looking for the Vegas seat and to join the double winners club.
THE FINAL TABLE
Seat 1: Dave Johnson – Cricketers Arms, Sandbach (68000)
Seat 2: Scott Dunroe – Alexander's, Chester (127000)
Seat 3: Bob Heighway – Park Hotel, Southport (14000)
Seat 4: Alan Ainscough – Charnley Arms, Wigan (110000)
Seat 5: Kevin Davies – Swan Hotel, Prenton (45000)
Seat 6: Kieran Goldson – Halton Castle, Ormskirk (62000)
Seat 7: Tarra Moore – Hartford Hall, Northwich (27000)
Seat 8: Michael Kewley – Old Swan Conservative Club, Liverpool (243000)
Seat 9: Jed Riley – George Scott Snooker Club, Liverpool (51000)
Kevin Davies (Not the footballer!) was the first player to leave the final table in 9th position. Kevin was the followed by Alan Ainscough in 8th, Bob Heighway in 7th and ex champ Tarra Moore in 6th. Scott Dunroe finished in 5th with Jed Riley in 4th and when Dave Johnson left in 3rd we had a heads-up match between Kieran Goldson and Michael Kewley to look forward to. The final hand of the evening had Kieran's K-8 up against the Q-J of Michael. The final board ran off 2-5-2-10-10 to crown a new North West Two champion in the shape of Kieran Goldson.
VEGAS 100 QUALIFIER
1st Kieran Goldson – Halton Castle, Ormskirk
SEMI FINAL QUALIFIERS & CASH PRIZE WINNERS
2nd Michael Kewley – Old Swan Conservative Club, Liverpool
3rd Dave Johnson – Cricketers Arms, Sandbach
4th Jed Riley – George Scott Snooker Club, Liverpool
5th Scott Dunroe – Alexander's, Chester
6th Tarra Moore – Hartford Hall, Northwich
7th Bob Heighway – Park Hotel, Southport
CASH PRIZE WINNERS
8th Alan Ainscough – Charnley Arms, Wigan