THE REPORT
Shuffles in Portsmouth hosted our South England final in what turned out to be an historic day! 125 players sat down in the hope of leaving the tournament with a ticket into our 2013 National Final. 5 semi final seats and £500 were to be shared amongst other finalists.
Early on in the tournament, Roger O'Donoghue from the Mudeford & District Mens Club hit a royal flush on his way to a 39th placed finish, with his new favourite hand, K-J of spades.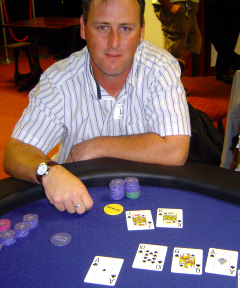 The Old Farmhouse in Totton had a good showing as they had two finalists in Joe Atack and league champion Doug Hawkins.
As soon as final table bubble boy Mick Milne hit the rail we had our final table of 10.
THE FINAL TABLE
Seat 1: Julie Tolson – Salterns Working Mens Club, Southampton (78000)
Seat 2: Phil Craker – Saxon Inn, Southampton (88500)
Seat 3: Pat James – Hamworthy Labour Club, Poole (119300)
Seat 4: Craig Hamilton – B52's, Horsham (62000)
Seat 5: Dave Fry – Famous Old Pines, Bournemouth (36000)
Seat 6: Joe Atack – Old Farmhouse, Totton (19000)
Seat 7: Doug Hawkins – Old Farmhouse, Totton (48500)
Seat 8: Paul Turner – Lock Stock & Barrel, Newbury (62000)
Seat 9: Joe Parkhurst – Village, Bournemouth (57500)
Seat 10: Stuart Taylor – Locomotive, Little Hampton (52000)
Our final table included previous back to back winner Paul Turner. Paul was hoping to become the first player to win a Redtooth regional final on three separate occasions, and with it, become a member of Vegas 100. Our first player out was Doug Hawkins in 10th place, Doug was then followed by team mate Joe Atack in in 9th. Stuart Taylor was 8th with Craig Hamilton 7th, Dave Fry 6th and top female finisher Julie Tolson in 5th. Phil Craker hit the rail in 4th and when Joe Parkhurst exited in 3rd, we had a heads-up match between two time winner Paul Turner and Pat James. The final hand saw Paul just edge it pre-flop with his A-6 to Pat's K-Q. A 7-6-2 flop was of no help to Pat and when the turn and river ran off 5-3 history was made and Paul Turner, for the third time, became the Redtooth South England regional champion. Congratulations Paul!
VEGAS 100 QUALIFIER
1st Paul Turner – Lock Stock & Barrel, Newbury
SEMI FINAL QUALIFIERS & CASH PRIZE WINNERS
2nd Pat James – Hamworthy Labour Club, Poole
3rd Joe Parkhurst – Village, Bournemouth
4th Phil Craker – Saxon Inn, Southampton
5th Julie Tolson – Salterns Working Mens Club, Southampton
6th Dave Fry – Famous Old Pines, Bournemouth
7th Craig Hamilton – B52's, Horsham
CASH PRIZE WINNERS
8th Stuart Taylor – Locomotive, Little Hampton