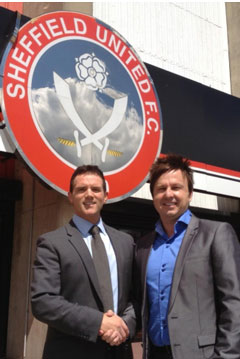 Redtooth, the UK's leading supplier of entertainment to the licensed trade, is joining forces with United – the distinctive Redtooth logo will appear on the Blades new away shirt next season.
Redtooth, whose Managing Director is lifelong United fan Martin Green, attracts a huge following by organising and running the UK's largest pub poker league in more than 1,000 venues with 140,000 registered players, which culminates in a national final in Las Vegas where 100 players battle it out to become the UK Pub Poker Champion.
Redtooth, now based in Barlborough, North Derbyshire, is also renowned for pub quizzes and recently won the Best Entertainment Business title at the pub industry Oscars' (The Publican Awards), beating off stiff competition from amongst others, the global entertainment giant, Sky TV.
Martin, aged 48, originally from Tinsley, Sheffield, and a childhood friend of former Blades boss Micky Adams, said:
"As a Blade since childhood, I am delighted to be supporting my team in this way and, at the same time, further building the awareness of Redtooth.

"We are really pleased to be on board for United's promotion push for next season, coming at a time when we are about to announce another significant venture in pub and club entertainment with two high profile sporting names," added Martin.
United Commercial Director Steve Coakley concluded the deal with Redtooth. He said: "Having dealt with Martin previously we are looking forward to the opportunity of working with Martin and his team next season. Redtooth have become a very successful business in the last decade and we are delighted to announce this partnership with an organisation having such a terrific reputation."
Martin launched his current business as Hemlock Promotions in 1999 from an attic at his parents' home in Ferrars Road, Tinsley. It became Redtooth in 2001, taking up premises in Mowbray Street, Sheffield. The late TV star Jeremy Beadle was a director of the business before his death in 2008.
Redtooth employs 20 people at its headquarters in Barlborough and another 20 people across the UK. Its Creative Director is Yorkshire born Tim Smithies, a renowned film-maker and musician.
Previously the Blades' away shirt was sponsored by the Gilder Group in a joint deal with neighbours Sheffield Wednesday. Gilder will continue a commercial partnership with United and remain home kit sponsor for the Owls.