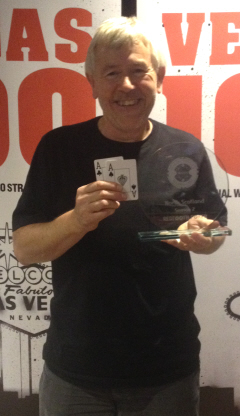 A fantastic turnout for our first regional final of season 6.2 witnessed possibly the best North Scotland regional final so far! The magnificent G Casino in Aberdeen hosted this great event where one lucky individual would leave with a trip to Las Vegas. Semi final seats and cash prizes were also awarded on the day.
Last seasons champ, Gregory James Millar, who was our 2nd Vegas 100 qualifer back in May was in attendance, however, he was to be outperformed this time by team mate Andrew Simpson who raced into the final table as chip leader.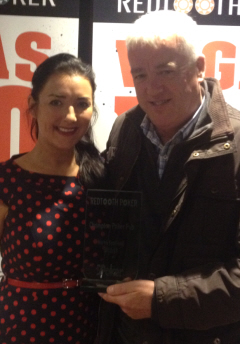 The team event trophy went to the Kitty Brewster, one of our many Aberdeen venues! The Kitty was represented by league champion and finalist, Brian Buchan, Neil Morrice & Leighton Adam.
THE FINAL TABLE
Seat 1: Dean Leslie – Red Lion, Aberdeen (17,000)
Seat 2: Alisdair Stewart – Butchers Arms, Aberdeen (42,000)
Seat 3: Andrew Simpson – Granary, Elgin (90,000)
Seat 4: Brian Buchan – Kitty Brewster, Aberdeen (50,000)
Seat 5: Romana Wingate – Auctioneers, Inverness (5,000)
Seat 6: James Stewart – Rack & Cue, Dundee (22,000)
Seat 7: Fiona Macintosh – Zoar Inn, Forfar (73,000)
Seat 8: James MacGillivry – Club, Inverness (34,000)
Seat 9: Alan Rowe – Argyll Hotel, Ullapool (56,000)
Andrew Simpson led the way and showed no signs of giving up his healthy stack as the shorter stacks made way early on. Dean Leslie was first to go in 9th, followed by Romana Wingate in 8th. James Stewart was 7th with James MacGillivry 6th and Alisdair Stewart in 5th. Fiona Macintosh hit the rail in 4th place and Brian Buchan in 3rd. This left a heads-up match between Andrew Simpson and Alan Rowe. The final hand was nothing but a 'cooler' as Alan tabled the pocket rockets and Andrew Q-J. The board ran out J-7-4-5-6 to make Alan Rowe our newest North Scotland champion and our 23rd Vegas 100 member! Congratulations Alan.
VEGAS 100 QUALIFIER
1st Alan Rowe – Argyll Hotel, Ullapool
SEMI FINAL QUALIFIERS & CASH PRIZE WINNERS
2nd Andrew Simpson – Granary, Elgin
3rd Brian Buchan – Kitty Brewster, Aberdeen
4th Fiona Macintosh – Zoar Inn, Forfar
CASH PRIZE WINNERS
5th Alisdair Stewart – Butchers Arms, Aberdeen
6th James MacGillivry – Club, Inverness
7th James Stewart – Rack & Cue, Dundee
8th Romana Wingate – Auctioneers, Inverness