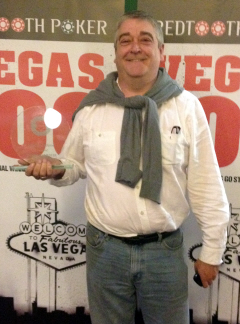 The Mint Casino in Glasgow hosted our South Scotland regional final for only the 2nd time and an excellent turn-out ensured everyone had a great day. A trip to Las Vegas, semi final seats and cash prizes were awarded as well as trophies!
The I-Q Cafe Bar, probably our most successful South Scotland venue with a couple of team event titles under their belt, produced the chip leader on the final table. This time it was James Gallacher's time to shine!
The team event had a 1st time winner in the Loanhead Miners in Midlothian. Their heroes on the day were finalists Keith Burns and George Halliday also being supported by Scott Burnett and Kevin Dawson.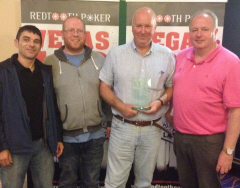 THE FINAL TABLE
Seat 1: Adam Balazs – Schiehallion, Aberfeldy (60,000)
Seat 2: Ronald Fleming – Newtongrange Star FC, Newtongrange (21,000)
Seat 3: Connor Macleod – Wintergills, Glasgow (10,000)
Seat 4: Michael McQuigan – Macclures Bar, Dunoon (61,000)
Seat 5: Neil Feenan – Elphinstone Arms, Elphinstone (51,000)
Seat 6: Keith Burns – Loanhead Miners, Midlothian (44,000)
Seat 7: George Halliday – Loanhead Miners, Midlothian (22,000)
Seat 8: James Gallacher – I-Que Cafe Bar, Kirkintilloch (72,000)
Seat 9: George McGowan – Viking Bar, Glasgow (17,000)
Seat 10: George Young – Fountain Bar, Perth (28,000)
George McGowan was the first player out in 10th place and was soon followed by George Young 9th, Connor Macleod 8th, Ronald Fleming 7th, Adam Balazs 6th, Keith Burns 5th, Neil Feenan 4th and George Halliday 3rd. Our two remaining players were James Gallacher and Michael McGuigan, our two chip leaders as the final table got under way. The final hand saw James hold A-3 and Michael 4-4. Michael's pre-flop advantage soon vanished as James smashed a board of 3-5-3-A-A to become the latest South Scotland champion! Congratulations to all winners.
VEGAS 100 QUALIFIER
1st James Gallacher – I-Que Cafe Bar, Kirkintilloch
SEMI FINAL QUALIFIERS & CASH PRIZE WINNERS
2nd Michael McQuigan – Macclures Bar, Dunoon
3rd George Halliday – Loanhead Miners, Midlothian
4th Neil Feenan – Elphinstone Arms, Elphinstone
CASH PRIZE WINNERS
5th Keith Burns – Loanhead Miners, Midlothian
6th Adam Balazs – Schiehallion, Aberfeldy
7th Ronald Fleming – Newtongrange Star FC, Newtongrange
8th Connor Macleod – Wintergills, Glasgow