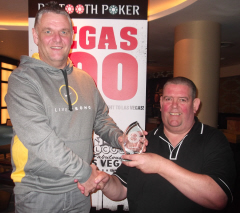 The fantastic Alea Casino in Nottingham hosted our East Midlands regional final where another Vegas 100 package was awarded along with a share of £500, 8 semi final seats and the two crystal glass trophies. 'Shuffle up 'n' deal'!
Paul Kettle from the Muddle Go Nowhere was the first player eliminated. Paul was eliminated quicker than the time it took him to find his seat and sit down! The usual East Midlands roar and round of applause soon followed.
The team event had a first time winner in the Mundy Arms in Heanor. It was a two horse race for some time with the Plough in Lincoln also having 3 top 20 finishers. Eventually Lee Smith was eliminated in 18th place to give the Mundy Arms the title. They had two finalists on the day in league champion Annmarie Winter and Carl Dutton. They were also represented by Jim McKeown, who just fell short of a final table appearance, and the top rail bird on the day in Jonathan Clifford.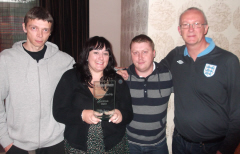 THE FINAL TABLE
Seat 1: Carl Dutton – Mundy Arms, Heanor (66,000)
Seat 2: Helen Hill – Boot & Slipper, Alfreton (148,000)
Seat 3: Tez Duxbury – Oak & Acorn, Derby (116,000)
Seat 4: John Sharratt – Willow Tree, Nottingham (105,000)
Seat 5: Nigel Hardy – Railway, Nottingham (112,000)
Seat 6: Paul Cox – Chartwell Arms, Leicester (253,000)
Seat 7: Danny England – Wilsthorpe Tavern, Long Eaton (25,000)
Seat 8: Annmarie Winter – Mundy Arms, Heanor (10,000)
Seat 9: Mandy Smith – Chartwell Arms, Leicester (144,000)
Our short stack Annmarie Winter was the first player eliminated in 9th place. Annmarie was soon followed by previous East Midlands champion and LTLV finalist Nigel Hardy in 8th. Danny England hit the rail in 7th place with Carl Dutton in 6th, chip leader Paul Cox finished in 5th place with John Sharratt and Helen Hill in 4th and 3rd respectively. Our heads-up match was between Mandy Smith and long time Redtooth member Tez Duxbury. The final hand saw a pre-flop all in with Tez tabling K-10 to Mandy's A-9. After a low flop a decisive 10 was dealt on the turn and with no ace in sight Tez Duxbury became the new East Midlands regional champion! Congratulations Tez. Tez was handed his trophy by this year's LTLV finalist Nigel Hardy who also made the day's final.
VEGAS 100 QUALIFIER
1st Tez Duxbury – Oak & Acorn, Derby
SEMI FINAL QUALIFIERS & CASH PRIZE WINNERS
2nd Mandy Smith – Chartwell Arms, Leicester
3rd Helen Hill – Boot & Slipper, Alfreton
4th John Sharratt – Willow Tree, Nottingham
5th Paul Cox – Chartwell Arms, Leicester
6th Carl Dutton – Mundy Arms, Heanor
7th Danny England – Wilsthorpe Tavern, Long Eaton
8th Nigel Hardy – Railway, Nottingham
SEMI FINAL QUALIFIERS
9th Annmarie Winter – Mundy Arms, Heanor