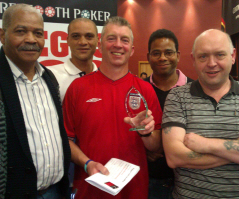 Star City was a hive of activity as Redtooth Poker's West Midlands members were in town. Almost 200 players were looking for that one Vegas 100 package.
The Amber Cafe Bar in Evesham had a regional final to forget as two of their members were out in the very early stages. Nick Powell being the first player out and Andy Martyr-Icke soon following.
The team event had deserved winners in the Huntsman, Cheadle. They had two finalists in Liam Budd and David Walker. Carol Kingston and Paul Swash were also representing the Huntsman.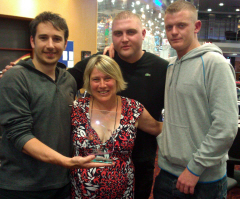 THE FINAL TABLE
Seat 1: Simon Cross – Viaduct, Kidderminster (179,000)
Seat 2: John Jackson – Blackpole Inn, Worcester (103,000)
Seat 3: Dominic Knight – Anglesey Arms, Burton-upon-Trent (42,000)
Seat 4: Alan Locke – Woodman, Dudley (150,000)
Seat 5: Ashley Kennett – Heart of Oak, Hereford (112,000)
Seat 6: Liam Budd – Huntsman, Cheadle (55,000)
Seat 7: David Walker – Huntsman, Cheadle (60,000)
Seat 8: David Terry – Gunmakers Arms, Wolverhampton (60,000)
Seat 9: Robert Hughes – Crown & Anchor, West Bromwich (124,000)
Seat 10: Janet Page – Beeches, Great Barr (94,000)
Robert Hughes was eliminated in 10th place which meant the remaining players had at least made the semi final places. Liam Budd finished in 9th place with David Terry in 8th. 7th was Janet Page followed by David Walker and Simon Cross in 6th and 5th. 4th place was Dominic Knight with Ashley Kennett in 3rd place leaving a heads-up encounter between John Jackson and Alan Locke. A long intense battle came to an end when both players were dealt pocket pairs with Alan's 10-10 way ahead of John's 3-3. A final board of A-K-9-2-7 was no help to John as Alan Locke became the latest Vegas 100 member.
VEGAS 100 QUALIFIER
1st Alan Locke – Woodman, Dudley
SEMI FINAL QUALIFIERS & CASH PRIZE WINNERS
2nd John Jackson – Blackpole Inn, Worcester
3rd Ashley Kennett – Heart of Oak, Hereford
4th Dominic Knight – Anglesey Arms, Burton-upon-Trent
5th Simon Cross – Viaduct, Kidderminster
6th David Walker – Huntsman, Cheadle
7th Janet Page – Beeches, Great Barr
8th David Terry – Gunmakers Arms, Wolverhampton
SEMI FINAL QUALIFIERS
9th Liam Budd – Huntsman, Cheadle