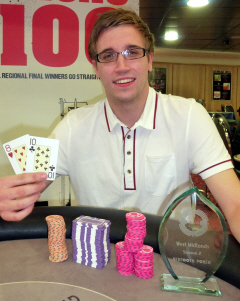 The well presented Genting Casino in Star City, Birmingham hosted the second West Midlands final of the season. Eight players were awarded a semi final seat with the all important winner securing a trip to Las Vegas, Nevada.
203 players started with the first player being eliminated quicker than you can say shuffle up n deal. A relatively quiet first hour was proceeded by carnage after the break. Player after player was eliminated until we had our team event winner. The Old Contemptibles in Birmingham were crowned winners in their debut Redtooth season. They were well represented by Matt Williams, Guy Venables and Phil Williams.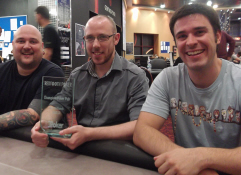 THE FINAL TABLE
Seat 1: Richard Playfoot – Wrottesley Arms, Wolverhampton (175,000)
Seat 2: Jon Chappel – Turmut Hoer, Gloucester (130,000)
Seat 3: Jamie Coughlan – Bulls Head Inn, Warwickshire (150,000)
Seat 4: John Hart – Beggars Bush, Birmingham (130,000)
Seat 5: Rick Morgan – Rose & Crown, Wolverhampton (105,000)
Seat 6: Mike Duda – Drakes Drum, Birmingham (50,000)
Seat 7: Sam Keeling – Sneyd Arms, Stoke-on-Trent (180,000)
Seat 8: Andrew Dobbins – Seabright Arms, Worcester (90,000)
Seat 9: Paul Medland – Hilton Brook, Hilton (55,000)
Short stack Mike Duda soon exited the final table in 9th place with Andrew Dobbins soon following in 8th place. Rick Morgan was the next player eliminated in 7th place. Semi finalists John Hart, Richard Playfoot and Paul Medland were 6th, 5th & 4th with Jamie Coughlan just missing out on a heads-up match. This left Jon Chappel and Sam Keeling to contest the Vegas 100 package. Big stack at the time Jon Chappel had lady luck on his side with his 10-8 outdrawing Sam's A-5. Congratulations Jon and good luck in Las Vegas.
VEGAS 100 QUALIFIER
1st Jon Chappel – Turmut Hoer, Gloucester
SEMI FINAL QUALIFIERS & CASH PRIZE WINNERS
2nd Sam Keeling – Sneyd Arms, Stoke-on-Trent
3rd Jamie Coughlan – Bulls Head Inn, Warwickshire
4th Paul Medland – Hilton Brook, Hilton
5th Richard Playfoot – Wrottesley Arms, Wolverhampton
6th John Hart – Beggars Bush, Birmingham
7th Rick Morgan – Rose & Crown, Wolverhampton
8th Andrew Dobbins – Seabright Arms, Worcester
SEMI FINAL QUALIFIERS
9th Mike Duda – Drakes Drum, Birmingham