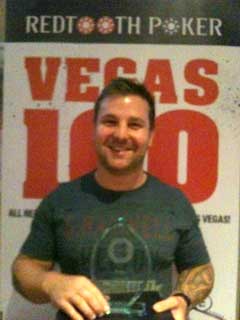 Redtooth Poker's Welsh members took to their seat at the Grosvenor Casino in Wales to battle it out for another Vegas 100 package. Three semi final seats were also available along with the usual cash prizes and trophies.
There were mixed fortunes for the lads from the Central Hotel in Pontypridd. David Morgan was the first player out, however, league champion Joseph Taylor went on to make a final table appearance.
The Black Lion in Cardiff were the outstanding pub on the day as all representatives hit the final table. Their three finalists were Steve Johnston, David Wall and Matthew Brown.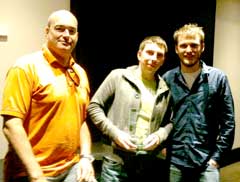 THE FINAL TABLE
Seat 1: Steven Geary – Cayo Arms, Cardiff (14,000)
Seat 2: David Wall – Black Lion, Cardiff (50,000)
Seat 3: Matthew Hill – Hollybush, Cardiff (47,000)
Seat 4: Matthew Brown – Black Lion, Cardiff (23,000)
Seat 5: Ian Jones – Ferndale Hotel, Rhondda (17,000)
Seat 6: Steven Johnston – Black Lion, Cardiff (80,000)
Seat 7: Joseph Taylor – Central Hotel, Pontypridd (14,000)
Seat 8: Daniel Roach – Railway Hotel, Penarth (20,000)
Seat 9: Gethin Thomas – Gower Hotel, Cardiff (42,000)
Seat 10: Matthew Bramhill – Railway Hotel, Penarth (54,000)
The final table didn't quite go to form as the short stacks fought back against the big stacks. Ian Jones exited in 10th with Steven Geary 9th and Daniel Roach in 8th. David Wall and Gethin Thomas finished in 7th and 6th respectively. Steven Johnston hit the rail in 5th with Matthew Hill in 4th and Matthew Bramhill 3rd. The heads-up match was between Matthew Brown and Joseph Taylor. Both players 'went to the races' for the final hand with Joseph's 4-4 edging Matthew's A-J pre-flop. The all important board ran out 10-10-9-5-10 to give Joseph Taylor a full house and the title of Wales One regional final champion.
VEGAS 100 QUALIFIER
1st Joseph Taylor – Central Hotel, Pontypridd
SEMI FINAL QUALIFIERS & CASH PRIZE WINNERS
2nd Matthew Brown – Black Lion, Cardiff
3rd Matthew Bramhill – Railway Hotel, Penarth
4th Matthew Hill – Hollybush, Cardiff
CASH PRIZE WINNERS
5th Steven Johnston – Black Lion, Cardiff
6th Gethin Thomas – Gower Hotel, Cardiff
7th David Wall – Black Lion, Cardiff
8th Daniel Roach – Railway Hotel, Penarth