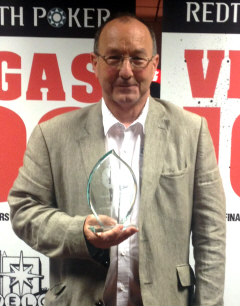 Our South England members descended onto Shuffles where yet again, history was made. Who would win the Vegas 100 package? Who would win the cash prizes on offer? And equally as important, who would win the six semi final seats?
Our most successful regional final player, Paul Turner, who has incredibly won the South England title on three separate occasions was back once again to try and defend his title like he successfully did last year in seasons 5.1 & 5.2. However, 125 other poker players were also wanting to claim the South England title.
The team event title went to the Red Lion in Poole for the first time. Their representatives were Martin Taylor, Terry Scott, Bob Richardson and Mark Warn.
THE FINAL TABLE
Seat 1: Paul Turner – Lock Stock & Barrel, Newbury (118,000)
Seat 2: Eddie Lang – New Clock Inn, Eastleigh (61,000)
Seat 3: John Attwater – Mudeford & District Mens Club, Christchurch (71,000)
Seat 4: Gordon Keane – Cranleigh, Bournemouth (83,000)
Seat 5: Ted Reeves – Cuckoo Pint, Stubbington (54,000)
Seat 6: Richard Harwood – B52's, Horsham (112,000)
Seat 7: Matt Parker – Bellemoor Tavern, Southampton (23,000)
Seat 8: Roger O'Donoghue – Mudeford & District Mens Club, Christchurch (71,000)
Seat 9: Kevin Dunwell – Lock Stock & Barrel, Newbury (68,000)
Our three times champion, Paul Turner, started the final as the big stack with Richard Harwood hot on his heels. Matt Parker was eliminated first in 9th position and was followed by the bubble boy for the semi seats, John Attwater in 8th. Gordon Keane was then eliminated in 7th with Richard Harwood 6th. 5th place was Ted Reeves who was shortly followed by Eddie Lang in 4th and Roger O'Donoghue in 3rd. Our heads-up encounter was between Paul and Kevin, both from the Lock Stock & Barrel! The final hand saw Paul table K-4 to Kevin's A-10. A flop of 10-6-2 put Kevin comfortably in the lead and even more so when a harmless 8 hit the turn. But the poker gods were still shining on Paul Turner as a K casually peeled off on the river to give Paul only his 4th South England title and second in succession. Can he make the hat-trick next time? Tune-in in December to find out! Congratulations once again Paul.
VEGAS 100 QUALIFIER
1st Paul Turner – Lock Stock & Barrel, Newbury
SEMI FINAL QUALIFIERS & CASH PRIZE WINNERS
2nd Kevin Dunwell – Lock Stock & Barrel, Newbury
3rd Roger O'Donoghue – Mudeford & District Mens Club, Christchurch
4th Eddie Lang – New Clock Inn, Eastleigh
5th Ted Reeves – Cuckoo Pint, Stubbington
6th Richard Harwood – B52's, Horsham
7th Gordon Keane – Cranleigh, Bournemouth
CASH PRIZE WINNERS
8th John Attwater – Mudeford & District Mens Club, Christchurch