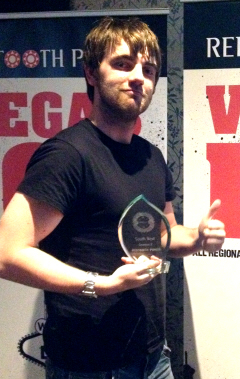 The Grosvenor Casino in Plymouth hosted our South West regional final for only the 2nd time following the success of our last finals. Another Vegas 100 package would be awarded along with cash prizes, semi final seats and crystal glass trophies.
The Ilfracombe Arms (formally the Marlboro Club), won the team event trophy with 4 excellent performances on the day. Finalist Simon Higgins was joined by Dean Camm, Simon Spear and Tony Ross.
THE FINAL TABLE
Seat 1: Chris Wilson – Brook House Inn, Newquay (59,000)
Seat 2: Brandon Tindle – Sir Joshua Reynolds, Plymouth (56,000)
Seat 3: Ricky Maguire – Tamar, Plymouth (67,000)
Seat 4: Rory Cowell – Rashleigh Arms, St Austell (27,000)
Seat 5: Neil Lott – Sir Joshua Reynolds, Plymouth (16,000)
Seat 6: James Drake – Sloop Inn, Kingskerwell (53,000)
Seat 7: Kenneth Wilcox – Ship Inn, Paignton (28,000)
Seat 8: Simon Matthews – Old Success Inn, Penzance (56,000)
Seat 9: Brian Worts – Farmhouse, Exmouth (48,000)
Seat 10: Simon Higgins – Ilfracombe Arms, Ilfracombe (34,000)
A fairly even final table saw Brian Worts hit the rail first in 10th place, Rory Cowell finished in 9th place and was followed by short stack Neil Lott in 8th. Kenneth Wilcox was 7th with Simon Matthews 6th and Chris Wilson 5th. Simon Higgins came home in 4th winning a semi final seat along with Brandon Tindle in 3rd. The heads-up match involved our remaining two players James Drake and Ricky Maguire. The final hand saw James's 8-7 go up against Ricky's J-5. The final board ran out 8-7-3-K-J to make James Drake our newest South West regional final champion.
VEGAS 100 QUALIFIER
1st James Drake – Sloop Inn, Kingskerwell
SEMI FINAL QUALIFIERS & CASH PRIZE WINNERS
2nd Ricky Maguire – Tamar, Plymouth
3rd Brandon Tindle – Sir Joshua Reynolds, Plymouth
4th Simon Higgins – Ilfracombe Arms, Ilfracombe
CASH PRIZE WINNERS
5th Chris Wilson – Brook House Inn, Newquay
6th Simon Matthews – Old Success Inn, Penzance
7th Kenneth Wilcox – Ship Inn, Paignton
8th Neil Lott – Sir Joshua Reynolds, Plymouth