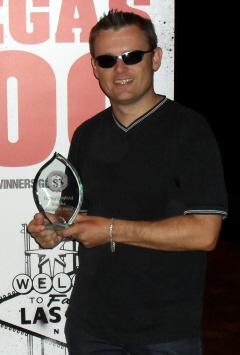 The ever welcoming Aspers in Northampton was where our next Central England Vegas 100 member was found. A high turnout put six semi final seats up for grabs as well as the return of the team trophy.
Last season's winner was absent so a new Central England champion was going to be crowned. Our runner up in May's LTLV National Final, Neil Pitchford, was in attendance hoping to get back on the plane to Las Vegas for next year's Vegas 100. However, it wasn't to be on this occasion as Neil signed out in 97th position and no doubt, after his Vegas antics, went straight to the bar!
The Priory in St Neots had an excellent day with three top 30 finishers and one finalist in Gary Rees. Gary was well supported by the Ward family in Ryan Ward, Paul Ward and Emma Ward who were father, son and daughter!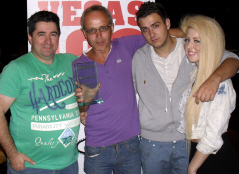 THE FINAL TABLE
Seat 1: Brian Barfoot – King William, Kings Lynn (256,000)
Seat 2: Ryan McKeith – Burnt Oak, Milton Keynes (26,000)
Seat 3: Ricky Shafter – Rovers Tye, Colchester (139,000)
Seat 4: Gary Rees – Priory, St Neots (24,000)
Seat 5: Paul Halls – Greengage, Bury St Edmunds (55,000)
Seat 6: Paul Chittock – Greengage, Bury St Edmunds (145,000)
Seat 7: Michael Barnes – Rushden Working Mens Club, Rushden (67,000)
Seat 8: Mike Samuels – Top of the World, Hemel Hempstead (20,000)
Seat 9: Ben Farrow – Halcyon, Peterborough (59,000)
Seat 10: Matthew Gregory – Rovers Tye, Colchester (84,000)
Mike Samuels started as our short stack with Brian Barfoot starting as the big stack. Gary Rees was out first in 10th place and was soon accompanied by Ben Farrow and Matthew Gregory who also just missed out on a semi final seat. Ryan McKeith finished in 7th with Paul Halls 6th, Michael Barnes 5th and Brian Barfoot in 4th place. Ricky Shafter's elimination in 3rd place left us with a heads-up match between long time Redtooth member Mike Samuels and Paul Chittock. The final hand saw Mike table a 'monster' with A-Q against Paul's lowly 5-2. The board was of no help to Paul as it ran off J-9-4-K-8 to crown Mike Samuels the Central England regional champion.
VEGAS 100 QUALIFIER
1st Mike Samuels – Top of the World, Hemel Hempstead
SEMI FINAL QUALIFIERS & CASH PRIZE WINNERS
2nd Paul Chittock – Greengage, Bury St Edmunds
3rd Ricky Shafter – Rovers Tye, Colchester
4th Brian Barfoot – King William, Kings Lynn
5th Michael Barnes – Rushden Working Mens Club, Rushden
6th Paul Halls – Greengage, Bury St Edmunds
7th Ryan McKeith – Burnt Oak, Milton Keynes
CASH PRIZE WINNERS
8th Matthew Gregory – Rovers Tye, Colchester