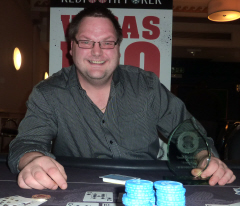 A record turnout in Glasgow battled for another place into Vegas 100. Failing that there was always a seat into our popular semi final or a nice cash prize to take away! With only 5 players absent from the game, it clearly shows the popularity of Vegas 100.

As in North Scotland, another Vegas 100 member was in town. Alex McBride from the Gartocher in Glasgow was aiming for a second win of the year as he stormed into the final table with the chip lead. Alex was looking to join an elite club of players who have won multiple regional finals.
The team event went to the Wintergills in Glasgow, they receive a glass trophy and can claim to be the champion pub of South Scotland! They were well represented by Brian Murray, Richard McCafferty, Leonard Watson and Conner McLeod.
THE FINAL TABLE
Seat 1: Gary Roy – Newtongrange Star Club, Newtongrange 41000
Seat 2: Robert Knight – Newtongrange Star Club, Newtongrange 10500
Seat 3: Neil Muir – Macclures Bar, Dunoon 18000
Seat 4: James Robertson – Station Hotel, Larbert 43000
Seat 5: Craig McLuckie – Old Brewery, Alloa 60000
Seat 6: Lorna Cochrane – Elphinstone Arms, Elphinstone 61000
Seat 7: Alex McBride – Gartocher, Glasgow 79000
Seat 8: Stuart Riddell – Old Racecourse Hotel, Ayr 32000
Seat 9: Ian Dawson – Oak Inn, Edinburgh 30500
Seat 10: Colin Reid – Queens Retreat, Edinburgh 67000
The first group to leave the final table consisted of Neil Muir in 10th, James Robertson in 9th and Robert Knight in 8th. Gary Roy left in 7th with Colin Reid in 6th and Ian Dawson bubbling the semi final seats in 5th. Craig McLuckie will be heading to Sheffield, as will Stuart Riddell as they finished 4th and 3rd respectively. The heads-up match was between Lorna Cochrane and Vegas 100 member Alex McBride. In Alex's season 1 victory, remarkably he defeated Laura's husband, John Cochrane, to win his package and this time he faced the better half! Unfortunately for the Cochrane's the result was exactly the same as season 1 as Laura's flopped two pair couldn't beat Alex's turned straight on the river. Congratulations Alex!
VEGAS 100 QUALIFIER
1st Alex McBride – Gartocher, Glasgow
SEMI FINAL QUALIFIERS & CASH PRIZE WINNERS
2nd Lorna Cochrane – Elphinstone Arms, Elphinstone
3rd Stuart Riddell – Old Racecourse Hotel, Ayr
4th Craig McLuckie – Old Brewery, Alloa
CASH PRIZE WINNERS
5th Ian Dawson – Oak Inn, Edinburgh
6th Colin Reid – Queens Retreat, Edinburgh
7th Gary Roy – Newtongrange Star Club, Newtongrange
8th Robert Knight – Newtongrange Star Club, Newtongrange