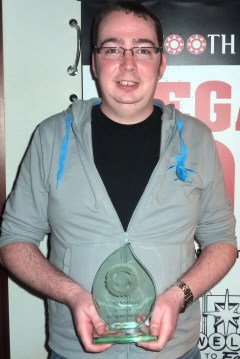 The G Casino in Aberdeen got our latest round of regional finals under way. Las Vegas was on the mind again as our Scottish members fought for the latest package into the UK's biggest and best poker club, the Vegas 100.

Current Vegas 100 member Alan Rowe went deep once again but on this occasion hit the rail just short of the final table in 12th place.
The team event had joint winners for the first time in the north of Scotland. The Club in Inverness and the Zoar Inn in Forfar shared the prize with the Club being represented by Vita Filip, Steve Watson, James MacGillivray and Christopher MacDonald. While the Zoar Inn were represented by Tia Angus, Graham Kettles, Allan Kettles and Fiona Mackintosh.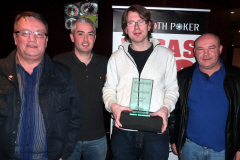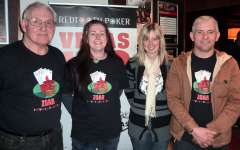 THE FINAL TABLE
Seat 1: Fiona Mackintosh – Zoar Inn, Forfar 5000
Seat 2: Tia Angus – Zoar Inn, Forfar 415000
Seat 3: Bill Cowan – Mither Tap, Aberdeen 40000
Seat 4: Andy Gilbride – Aboukir Hotel, Angus 53000
Seat 5: Alasdair Stewart – Butchers Arms, Aberdeen 60000
Seat 6: Darren Docherty – Scotia Bar, Aberdeen 45500
Seat 7: Jonathan Guest – Northern Bar, Aberdeen 22500
Seat 8: Carol Cowan – Red Lion, Aberdeen 22000
Seat 9: Michael Winton – Northern Bar, Aberdeen 75000
Seat 10: George Watson – Club, Inverness 27500
Short stack Fiona Mackintosh soon left us in 10th place. Carol Cowan then went in 9th place before Jonathan Guest in 8th and Andy Gilbride in 7th. Scotia's top man on the day was Darren Docherty in 6th place. Bill Cowan, the other half to Carol, exited in 5th bubbling the semi final seats. This meant Tia Angus in 4th, Michael Winton in 3rd and either George Watson or Alasdair Stewart would be off to Sheffield next year, with the other winning a trip to the poker capital. The final hand saw K-J go up against Q-9 and after a board of 7-A-A-3-10 it was Alisdair's K-J which held up giving him a dream trip to Las Vegas.
VEGAS 100 QUALIFIER
1st Alasdair Stewart – Butchers Arms, Aberdeen
SEMI FINAL QUALIFIERS & CASH PRIZE WINNERS
2nd George Watson – Club, Inverness
3rd Michael Winton – Northern Bar, Aberdeen
4th Tia Angus – Zoar Inn, Forfar
CASH PRIZE WINNERS
5th Bill Cowan – Mither Tap, Aberdeen
6th Darren Docherty – Scotia Bar, Aberdeen
7th Andy Gilbride – Aboukir Hotel, Angus
8th Jonathan Guest – Northern Bar, Aberdeen