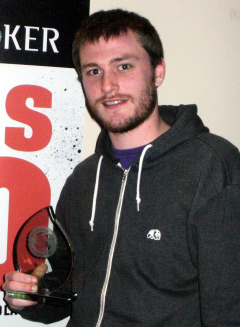 Our Welsh Redtooth Poker members descended onto the Grosvenor in Cardiff to compete in the latest Wales One regional final. Not only would one player be off to Vegas, but three others would be invited to Sheffield to compete in our national semi-final. £500 would also get shared amongst seven players.
The Birchgrove were out in force as ever with seven representatives from their two leagues. The B league almost secured the team trophy for the venue but they couldn't quite out perform the Tafarn Y Felin in Llanelli who were represented by Chris Partridge, Delphine Fowler and Kayleigh Cooper.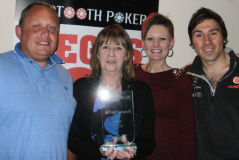 THE FINAL TABLE
Seat 1: Dilwyn Woodham – O Briens, Barry 21000
Seat 2: Robert Knight – Birchgrove, Cardiff 17000
Seat 3: Huw Roberts – Birchgrove, Cardiff 36000
Seat 4: Steven Johnston – Black Lion, Cardiff 53000
Seat 5: Nick Fisk – Mackintosh Hotel, Cardiff 24000
Seat 6: Paul Griffiths – Central Hotel, Pontypridd 30000
Seat 7: Chris Cascun – Birchgrove, Cardiff 54000
Seat 8: Dickie Evans – Wingfield Hotel, Caerphilly 18000
Seat 9: Chris Partridge – Tafarn Y Felin, Llanelli 9000
Seat 10: Delphine Fowler – Tafarn Y Felin, Llanelli 35000
With two players unfortunately missing out on everything but the memory of an excellent day, 8 players would leave with at least some money in their back pocket. Dickie Evans was out in 10th place with Dilwyn Woodham in 9th, Huw Roberts was 8th, Robert Knight 7th, Nick Fisk 6th, Chris Cascun 5th, Delphine Fowler 4th and Paul Griffiths 3rd. The heads-up match was between Steven Johnston and comeback kid Chris Partridge. The final hand saw Steven have the best of it with A-4 to Chris's 10-9. The board wasn't much help to Chris as it ran out K-Q-3-4-K to make Steven Johnston the latest Wales One regional champion.
VEGAS 100 QUALIFIER
1st Steven Johnston – Black Lion, Cardiff
SEMI FINAL QUALIFIERS & CASH PRIZE WINNERS
2nd Chris Partridge – Tafarn Y Felin, Llanelli
3rd Paul Griffiths – Central Hotel, Pontypridd
4th Delphine Fowler – Tafarn Y Felin, Llanelli
CASH PRIZE WINNERS
5th Chris Cascun – Birchgrove, Cardiff
6th Nick Fisk – Mackintosh Hotel, Cardiff
7th Robert Knight – Birchgrove, Cardiff
8th Huw Roberts – Birchgrove, Cardiff