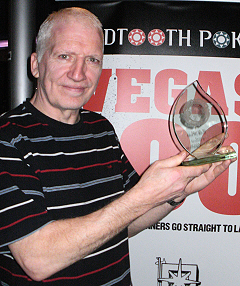 The Genting Club in Salford hosted the North West One regional final where we'd find 5 semi finalists, 7 cash prize winners and the all important Vegas 100 package winner.
The Rose & Crown in Chorley won the team event trophy as they almost had two finalists in Simon Wilson and R D Monk but both players fell short. James Martland also represented the venue.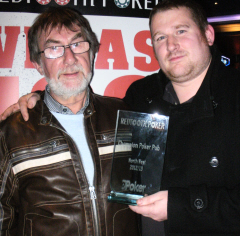 THE FINAL TABLE
Seat 1: Phil Cott – Blue Bell, Manchester 23,000
Seat 2: Ben Gresty – Finger Post, Stockport 32,000
Seat 3: Adam Hinchcliffe – Fox & Goose, Lancaster 58,000
Seat 4: Adam Birch – Old Leyland Gates, Leyland 131,000
Seat 5: Bradley Scholes – Hunt Lane Tavern, Oldham 32,000
Seat 6: James Miller – Lord Nelson, Nelson 61,000
Seat 7: Jason Denniston – Buck Inn, Sale 109,000
Seat 8: David Gill – Commercial, Prestwich 34,000
Seat 9: Stuart Brainsby – George, Morecambe 44,000
Seat 10: Mike Yeo – Royal Hotel, Atherton 34,000
The two players to unfortunately miss out on a cash prize and semi-final seat were Bradley Scholes in 10th and Adam Birch in 9th. The other two players to miss out on semi final qualification but managed to leave with a cash prize were Stuart Brainsby in 8th and Phil Cott in 7th. The other finishers were Ben Gresty in 6th, James Miller in 5th, Mike Yeo in 4th and Jason Denniston in 3rd. Our final two players were Adam Hinchcliffe and David Gill, both hoping to win the Vegas 100 package. The final hand saw the best hand hold up with David tabling J-9 to Adam's 6-7. The board ran out A-9-7-8-3 to make David Gill our new North West One regional final champion.
VEGAS 100 QUALIFIER
1st David Gill – Commercial, Prestwich
SEMI FINAL QUALIFIERS & CASH PRIZE WINNERS
2nd Adam Hinchcliffe – Fox & Goose, Lancaster
3rd Jason Denniston – Buck Inn, Sale
4th Mike Yeo – Royal Hotel, Atherton
5th James Miller – Lord Nelson, Nelson
6th Ben Gresty – Finger Post, Stockport
CASH PRIZE WINNERS
7th Phil Cott – Blue Bell, Manchester
8th Stuart Brainsby – George, Morecambe