The well presented Aspers in Northampton hosted our Central England regional final which saw long time Redtooth Poker venue, the Digswell Park Sports Association, clean up with the days major honours.
Their first was the team event trophy which they claimed once the Royal Oak in Stevenage went down to 2 players. The Digswell Park Sports Association were represented by league champion Amanda Woollard, Peter Skutela, Colin Bell and Daniel Brooks.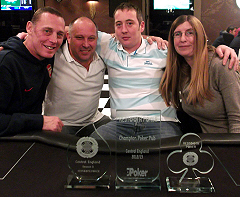 THE FINAL TABLE
Seat 1: Daniel Brooks – Digswell Park Sports Association, Welwyn Garden City 129,000
Seat 2: Andy King – Rose & Crown, Thetford 164,000
Seat 3: Peter Skutela – Digswell Park Sports Association, Welwyn Garden City 53,000
Seat 4: Daniel Lee – Collingtree, Northampton 145,000
Seat 5: Lex Smith – Midland Hotel, Hemel Hempstead 144,000
Seat 6: Russell Durtnall – Rose & Crown, Hemel Hempstead 135,000
Seat 7: Paul Dines – Grebe, Milton Keynes 57,000
Seat 8: Daniel Woodthorpe – Midland Hotel, Hemel Hempstead 87,000
Seat 9: Raul Monterio – Brickmakers Arms, Ipswich 31,000
With two players being eliminated just before the final table, 9 players sat down to compete for the top prize, a much sought after package into Vegas 100. Short stack Raul Monterio couldn't make any inroads as he was first to hit the rail in 9th place. The rest soon followed as Russell Durtnall finished in 8th place, Peter Skutela in 7th, Paul Dines in 6th and Lex Smith in 5th. Daniel Woodthorpe and Andy King were 4th & 3rd respectively. This left Digswell's Daniel Brooks and Collingtree's Daniel Lee to battle for the Vegas 100 package. The Digswell Park claimed their second win of the day when Brooks' flopped flush left Lee's Ace high drawing dead. Congratulations to all winners!
VEGAS 100 QUALIFIER
1st Daniel Brooks – Digswell Park Sports Association, Welwyn Garden City
SEMI FINAL QUALIFIERS & CASH PRIZE WINNERS
2nd Daniel Lee – Collingtree, Northampton
3rd Andy King – Rose & Crown, Thetford
4th Daniel Woodthorpe – Midland Hotel, Hemel Hempstead
5th Lex Smith – Midland Hotel, Hemel Hempstead
6th Paul Dines – Grebe, Milton Keynes
7th Peter Skutela – Digswell Park Sports Association, Welwyn Garden City
CASH PRIZE WINNERS
8th Russell Durtnall – Rose & Crown, Hemel Hempstead