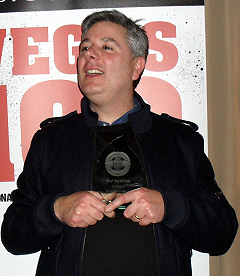 Leeds' Alea Casino hosted our West Yorkshire final once again as many of our West Yorkshire members took their seat. Only one would leave with the top prize, a package into Vegas 100.
Last season's regional final champion, Alan Tate, was back on the winner's podium, this time for the team event with his venue the Ring O Bells in Shipley. Alan was well supported by finalist Kenny Lyal and Mark Watts.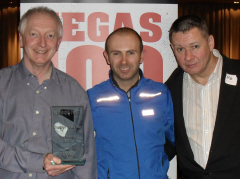 THE FINAL TABLE
Seat 1: Kenny Lyal – Ring O Bells, Shipley 293,000
Seat 2: John Carr – Barley Mow, Leeds 191,000
Seat 3: Bob Traynor – Gate, Wakefield 72,000
Seat 4: Andrew Carr – West End, Cleckheaton 99,000
Seat 5: Gerald Watson – George Inn, Bridlington 41,000
Seat 6: Chris Jackson – West End, Cleckheaton 42,000
Seat 7: David Ibbs – Globe Inn, Keighley 157,000
Seat 8: Chris Sagar – Dragon Hotel, Leeds 66,000
An eight player final table meant everyone was guaranteed at least a cash prize and a semi-final seat. Chris Jackson was the first player eliminated in 8th place. Chris was followed by Bob Traynor in 7th, Chris Sagar in 6th, 5th was David Ibbs with John Carr and Kenny Lyal 4th & 3rd respectively. Heads-up we had Andrew Carr against Gerald Watson. The tournament came to an end when Andrew was dealt K-2 to Gerald's 10-8, a flop of 9-J-2 gave Gerald a lot of hope until two 4's hit the turn and river to make Andrew Carr the new West Yorkshire champion. Afterwards Andrew dedicated his win to his friend Richard Morton who recently died. Congratulations Andrew!
VEGAS 100 QUALIFIER
1st Andrew Carr – West End, Cleckheaton
SEMI FINAL QUALIFIERS & CASH PRIZE WINNERS
2nd Gerald Watson – George Inn, Bridlington
3rd Kenny Lyal – Ring O Bells, Shipley
4th John Carr – Barley Mow, Leeds
5th David Ibbs – Globe Inn, Keighley
6th Chris Sagar – Dragon Hotel, Leeds
7th Bob Traynor – Gate, Wakefield
8th Chris Jackson – West End, Cleckheaton
SEMI FINAL QUALIFIERS
9th Mick Atkinson – Sun Inn, York