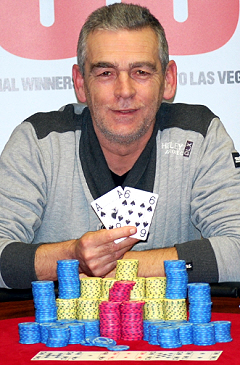 Shuffles welcomed our southern Redtooth Poker members where they would all battle for a fantastic prize, a trip to the gambling capital of the world! No other than the fabulous Las Vegas.
Paul Turner was back and looking for his historic third regional final win in a row, which would be his 5th overall if he managed to pull it off. Unfortunately it wasn't to be this time around as Paul finished in 38th position.
The team event went to the Greyfisher in Salisbury who were represented by finalist and league champion David Bowyer, Andy Burt, Gary Philpott and Steve Parsons.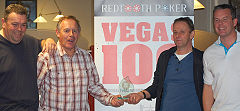 THE FINAL TABLE
Seat 1: Russell Bailey – Hop & Kilderkin, Bournemouth 35,500
Seat 2: Mike Hughes – Red Lion, Stubbington 59,000
Seat 3: Andy Findlay – Star & Garter, Portsmouth 104,000
Seat 4: Cat Stephenson – Jolly Farmer, Winchester 107,000
Seat 5: Nick Stainton – Elephant & Castle, Totton 58,000
Seat 6: David Bowyer – Greyfisher, Salisbury 30,500
Seat 7: Nathan Barfoot – AMF Bowl, Worthing 28,000
Seat 8: Antonio Prado – Salterns Working Mens Club, Southampton 140,000
Seat 9: Andrew McCluskie – Mudeford & District Mens Club, Christchurch 44,000
Seat 10: Richard Seymour – Admiral Hardy, Weymouth 15,000
With there being five semi-final qualifiers, four of the finalists would miss out this time around. The first player out was David Bowyer in 10th position. David was then followed by Richard Seymour in 9th, Andrew McCluskie 8th, Andy Findlay 7th, Nathan Barfoot 6th, Antonio Prado 5th, Russell Bailey 4th, and Cat Stephenson 3rd. The heads-up match was between Mike Hughes and Nick Stainton. The final hand had an unexpected outcome with Mike tabling a monster in K-K to Nick's A-6. The flop came 9-A-2 to propel Nick way out into the lead, the turn and river was of no help to Mike as as they peeled off a 2 and an 8 to make Nick Stainton the new South England regional final champion.
VEGAS 100 QUALIFIER
1st Nick Stainton – Elephant & Castle, Totton
SEMI FINAL QUALIFIERS & CASH PRIZE WINNERS
2nd Mike Hughes – Red Lion, Stubbington
3rd Cat Stephenson – Jolly Farmer, Winchester
4th Russell Bailey – Hop & Kilderkin, Bournemouth
5th Antonio Prado – Salterns Working Mens Club, Southampton
6th Nathan Barfoot – AMF Bowl, Worthing
CASH PRIZE WINNERS
7th Andy Findlay – Star & Garter, Portsmouth
8th Andrew McCluskie – Mudeford & District Mens Club, Christchurch