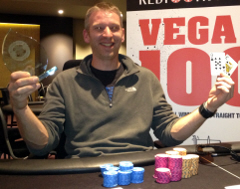 Aspers in Stratford welcomed over 200 East Londoners as we found another Vegas 100 package winner and many more semi-final qualifiers!
The Hop House in Tunbridge Wells won the team trophy and were represented by Carrie Taylor, Albert Glenister, Tom Fry and Marc Foster.
THE FINAL TABLE
Seat 1: Sebastian Aldridge – William Camden, Bexleyheath 54,000
Seat 2: Will Coddington – Henry's Bar, London 191,000
Seat 3: Maria Costi – Royal Standard, London 164,000
Seat 4: Jim Thain – Goose & Granit, Walthamstow 87,000
Seat 5: Mark Kimera – Odd Shoe, Croydon 55,000
Seat 6: Liam Barlow – William Camden, Bexleyheath 146,000
Seat 7: David Paveley – Kicking Dickey, Great Dunmow 152,000
Seat 8: Tom Rumble – Hoy & Helmet, Benfleet 95,000
Seat 9: Denis Fullilove – Railway Bell, London 45,000
Seat 10: Carl Simmons – Goat, Croydon 69,000
The first player eliminated was Hoy & Helmet's Tom Rumble. 9th place was Mark Kimera, 8th place Sebastian Aldridge with Jim Thain 7th, Carl Simmons 6th, David Paveley 5th, Maria Costi 4th and Will Coddington 3rd. The heads-up encounter came down to Liam Barlow and Denis Fullilove. The final hand came down to a race with Liam holding the pocket pair in 5-5 and Denis with the two overs in K-9. The flop and turn was pretty good for Liam as it came 10-8-8-6, that was until the King hit the river to give Denis a higher pair and the title of East London's Redtooth Poker champ! Well done all.
VEGAS 100 QUALIFIER
1st Denis Fullilove – Railway Bell, London
SEMI FINAL QUALIFIERS & CASH PRIZE WINNERS
2nd Liam Barlow – William Camden, Bexleyheath
3rd Will Coddington – Henry's Bar, London
4th Maria Costi – Royal Standard, London
5th David Paveley – Kicking Dickey, Great Dunmow
6th Carl Simmons – Goat, Croydon
7th Jim Thain – Goose & Granit, Walthamstow
8th Sebastian Aldridge – William Camden, Bexleyheath
SEMI FINAL QUALIFIERS
9th Mark Kimera – Odd Shoe, Croydon