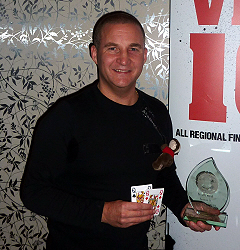 Our newest regional final in Plymouth saw our South West players battle for another Vegas 100 package. The Grosvenor in Plymouth played host to a fantastic day!
The Chaddlewood Inn in Plymouth took down our team event with three sublime performances from long time Redtooth members Simon Jones, Robert Giles and Mark Haslam.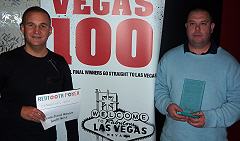 THE FINAL TABLE
Seat 1: Brett Didwell – Brendon Arms, Bude 58000
Seat 2: Barry Burton – Royal Inn, Par 43000
Seat 3: Simon Higgins – Ilfracombe Arms, Ilfracombe 35000
Seat 4: Mark Haslam – Chaddlewood Inn, Plymouth 17000
Seat 5: Simon Pledger – Threemilstone Social Club, Threemilestone 37000
Seat 6: Ryan Mitch – County Arms, Truro 90000
Seat 7: Simon Jones – Chaddlewood Inn, Plymouth 14000
Seat 8: Jamie Wright – Threemilestone Social Club, Threemilestone 15000
Seat 9: Rob Brewer – Rashleigh Arms, St Austell 17000
Seat 10: Maxine Halcro – Sloop Inn, Kingskerswell 9000
We had mixed fortunes from the lads from the Chaddlewood Inn as Simon Jones was the first player out in 10th place. Simon was shortly followed by Jamie Wright in 9th, Simon Pledger in 8th, Maxine Halcro in 7th, Rob Brewer in 6th, Simon Higgins in 5th, Ryan Mitch in 4th and Brett Didwell (very well actually) in 3rd. This left Mark Haslam from the Chaddlewood Inn and Barry Burton from the Royal Inn to play for the Vegas 100 package. The final hand saw Mark table Q-Q and Barry 8c-2c on a 3c-9s-Qc flop. The turn and river ran off 8-8 to boat up Mark Haslam and make him the new South West regional final champion.
VEGAS 100 QUALIFIER
1st Mark Haslam – Chaddlewood Inn, Plymouth
SEMI FINAL QUALIFIERS & CASH PRIZE WINNERS
2nd Barry Burton – Royal Inn, Par
3rd Brett Didwell – Brendon Arms, Bude
4th Ryan Mitch – County Arms, Truro
CASH PRIZE WINNERS
5th Simon Higgins – Ilfracombe Arms, Ilfracombe
6th Rob Brewer – Rashleigh Arms, St Austell
7th Maxine Halcro – Sloop Inn, Kingskerswell
8th Simon Pledger – Threemilstone Social Club, Threemilestone