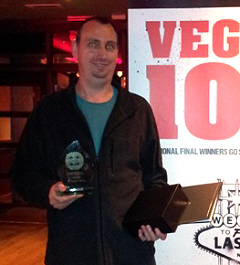 The Grosvenor in Bristol hosted our West Country regional final which has notably increased in numbers. Four semi-final qualifiers would be found from this final.
The very popular Bell Inn in Yeovil won the West Country team event for the first time. They brought eight players in total from their two leagues, however, the special mention goes to Jason Edwards, Nigel Humphreys, Malcolm Watson and Ashley Humphreys.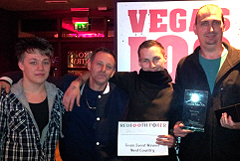 THE FINAL TABLE
Seat 1: Jane Fey – Old Plough, Kingswood 45,000
Seat 2: Ryan Marvel – Crown, Swindon 20,000
Seat 3: Ashley Humphreys – Bell Inn, Yeovil 50,000
Seat 4: Paul Barnett – Melksham Labour Club, Melksham 43,000
Seat 5: Jo Cozens – Black Castle, Bristol 32,000
Seat 6: Mike Grindell – Eliot Arms, South Cerney 24,000
Seat 7: Nigel Humphreys – Bell Inn, Yeovil 56,000
Seat 8: Jason Edwards – Bell Inn, Yeovil 47,000
Seat 9: Wendy Rollings – Wackum Inn, Bristol 106,000
Seat 10: Shaun Jenkins – Tavern, Melksham 101,000
Mike Grindell finished in 10th with Ryan Marvell in 9th and Paul Barnett in 8th. 7th place was Jo Cozens with Nigel Humphreys in 6th, Shaun Jenkins in 5th, Jane Fey in 4th and Wendy Rollings in 3rd. The heads-up match was a battle for bragging rights as well as the Vegas 100 package between two of Yeovil's finest in Ashley Humphreys and Jason Edwards. In what was a crazy final hand saw Jason hold 9-6 to Ashley's 10-6. A juicy flop of 10-7-8 pretty much ended the contest with Jason flopping a straight. The turn and river couldn't split the pot for Ashley as Jason Edwards takes home the bacon!
VEGAS 100 QUALIFIER
1st David Gill – Commercial, Prestwich
SEMI FINAL QUALIFIERS & CASH PRIZE WINNERS
2nd Adam Hinchcliffe – Fox & Goose, Lancaster
3rd Jason Denniston – Buck Inn, Sale
4th Mike Yeo – Royal Hotel, Atherton
5th James Miller – Lord Nelson, Nelson
CASH PRIZE WINNERS
6th Ben Gresty – Finger Post, Stockport
7th Phil Cott – Blue Bell, Manchester
8th Stuart Brainsby – George, Morecambe