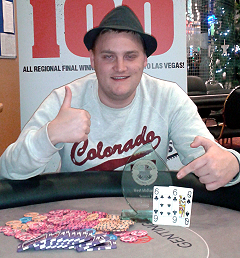 One of Redtooth Poker's longest serving regional final venues, the Genting Casino in Star City, Birmingham, hosted the second West Midlands final of the season. One player would be joining our West Midlands One winner, Catherine Winch, in Vegas.
The team event had first time winners in the Red Lion, Coventry. Gary Harrison, Johnny Read, Tom Blundell and Daniel Tutchings represented the venue and will take home the crystal glass trophy.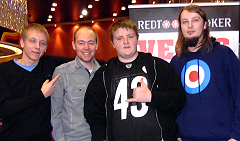 THE FINAL TABLE
Seat 1: Mark Bruerton – Boldmere Oak, Sutton Coldfield 135,000
Seat 2: Katy May – Digby, Birmingham 85,000
Seat 3: Mike Walley – Syndicate, Stoke-on-Trent 15,000 (Not 165,000 as previously stated)
Seat 4: Mark Jones – Pavillion, Birmingham 86,000
Seat 5: Keith Walker – Bell Inn, Coventry 14,000
Seat 6: Lee Townley – Sneyd Arms, Stoke-on-Trent 47,000
Seat 7: Andrew Swann – Farthings, Birmingham 40,000
Seat 8: Phil Stephens – Woodmans Rest, Birmingham 10,000
Seat 9: Jack Pendred – Nugget, Coventry 100,000
Seat 10: Adam Wilkes – Drakes Drum, Birmingham 28,000
A 10 player final table saw Mike Walley exit first in 10th place. Adam Wilkes was then eliminated in 9th place before Katy May in 8th, Mark Jones in 7th, Lee Townley in 6th, Andrew Swann in 5th, Mark Bruerton in 4th and Jack Pendred in 3rd. The heads-up saw Phil Stephens' Q-6 outdraw Keith Walker's 10-10. The final board ran off Q-8-4-5-8 to make Phil Stephens the latest West Midlands Redtooth Poker champion!
VEGAS 100 QUALIFIER
1st Phil Stephens – Woodmans Rest, Birmingham
SEMI FINAL QUALIFIERS & CASH PRIZE WINNERS
2nd Keith Walker – Bell Inn, Coventry
3rd Jack Pendred – Nugget, Coventry
4th Mark Bruerton – Boldmere Oak, Sutton Coldfield
5th Andrew Swann – Farthings, Birmingham
6th Lee Townley – Sneyd Arms, Stoke-on-Trent
7th Mark Jones – Pavillion, Birmingham
8th Katy May – Digby, Birmingham
SEMI FINAL QUALIFIERS
9th Adam Wilkes – Drakes Drum, Birmingham