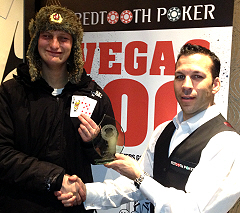 Aspers Casino, Stratford, London again played host to the West London Final which would see us find the final Vegas 100 qualifier from this round of regional finals.
The team event was taken home by the Crown, Northolt represented by Steve Evans, Calum Lothian & Jason Wakeling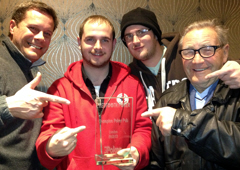 THE FINAL TABLE
Seat 1: Ben Macmillan -Leather Bottle, Wimbledon 53,000
Seat 2: Steve Evans – Crown, Northolt 40,000
Seat 3: Clyde Cutting – Spread Eagle, reading 104,000
Seat 4: Charlie Thurgood – Bar at the George, Gerrards Cross 97,000
Seat 5: Rohit Gupta – White Hart, Harlington 84,000
Seat 6: Steven Choules – Spread Eagle, Reading 90,000
Seat 7: Chrissy Citzler – Dukes Head, Putney 93,000
Seat 8: Oliver Last – Corner House, Oxford 57,000
Seat 9: Diane Docherty – Woodman, Banstead 30,000
Seat 10: Charles Scott – Royston Arms, Chingford 203,000
A 10 seater final table saw one player miss out on the semi final in March. Clyde Cutting was unfortunate enough to miss out in 10th place. 9th place was Diane Docherty with Chrissy Citzler in 8th, Ben Macmillan in 7th, Rohit Gupta in 6th, Steven Choules in 5th, Charles Scott in 4th and Steve Evans in 3rd. The heads-up match was between Charlie Thurgood and Oliver Last, both desperate for that Vegas 100 package. The final hand saw Charlie have a dominating hand with Q-7 to Oliver's J-7 and a board of 10-Q-A-6-6 gave Charlie the win as he became the new West London regional champion and latest Vegas 100 member!
VEGAS 100 QUALIFIER
1st Charlie Thurgood – Bar at the George, Gerrards Cross
SEMI FINAL QUALIFIERS & CASH PRIZE WINNERS
2nd Oliver Last – Corner House, Oxford
3rd Steve Evans – Crown, Northolt
4th Charles Scott – Royston Arms, Chingford
5th Steven Choules – Spread Eagle, Reading
6th Rohit Gupta – White Hart, Harlington
7th Ben Macmillan -Leather Bottle, Wimbledon
8th Chrissy Citzler – Dukes Head, Putney
SEMI FINAL QUALIFIERS
9th Diane Docherty – Woodman, Banstead