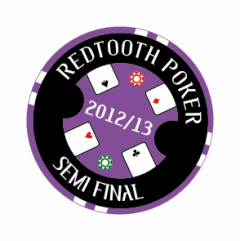 Only the second ever Redtooth Poker Semi-Final hit the Genting Casino in Sheffield as the final 10 Vegas 100 members were uncovered. A little under 200 Redtooth Poker members from all over the UK braved the icy conditions for the chance to win a holiday of a lifetime to Las Vegas.
The very popular Mark Labbett from ITV's 'The Chase' was in the building for photo's, autographs and for general meet and greets. Mark, very much a poker fan, later joined in the cash game action and pitted his wits against Redtooth Poker members at the table.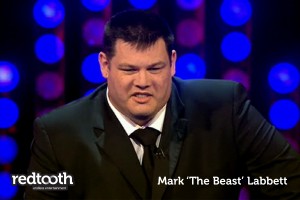 Once 'shuffle up 'n' deal' was announced we soon lost our first player in Mick Atkinson from the Fox Inn in York who lasted a little over 5 minutes. Better luck next time Mick! Several outdraws and bad beats later we were down to our last 20 with all 20 players guaranteed a prize. 11th to 20th would walk away with a brand new and very elegant Redtooth Poker hoodie (available to buy at £25!), a Redtooth Poker chip set and 2 packs of playing cards. With the top 10, of course, joining Vegas 100 in just over a months time.
As the final 10 got nearer the play tightened as the short stacks were looking for the needed double up. Lek Smith rode her luck on a few occasions as the cards ran in her favour more than once. Eventually the bubble burst which was met with a huge cheer and sigh of relief as the handshakes and high fives started. The unfortunate player to miss out on this fantastic prize was Jimmy Richards from St John's Deaf Club in London who just didn't get the luck when he needed it. So a little after 8pm we had our top 10, lets meet these beautiful people…