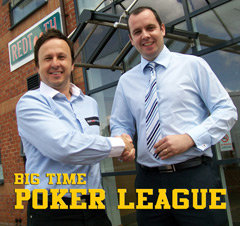 Big Time Poker League, the UK's fastest growing pub poker league have recently become Redtooth's fourth acquisition of the year.
Since the beginning of 2009 Big Time Poker have gone about their business signing up over 150 pubs surpassing more established pub poker companies and making it a major player in the pub poker business.
In the week leading up to their first quarterly final Redtooth brokered a deal to add Big Time Poker to its ever growing portfolio of pubs.
All the Big Time Poker League qualifiers and their guests arrived at the Grosvenor in Wallsall on Saturday 25th July to be welcomed by Redtooth representatives. The £10,000 prize money had been secured along with attractive trophies for each of the players on the final table.
There's a full report of the National Final here (in PDF format).
The day was a great success and we look forward to working with all the Big Time Poker League pubs in the future.