I wrote a few weeks ago that as an unknown on the world poker stage, were I to collect a sizeable win during my visit to the WSOP, I'd let everyone know. Well I didn't, but what a time I had, much of it profitable, as readers familiar with my Redtooth blog from Vegas will no doubt appreciate.
The trip was one of the most eventful I've ever made. It started when I sat next to darts superstar Eric Bristow on the flight to Vegas; goodness me, he can chat, so we got on like a house on fire. Arriving in Nevada, who do I bump into only snooker ace Steve 'Interesting' Davies? Steve is actually a very good poker player and excellent company.
As I left the Las Vegas arrivals lounge after chatting with two British sporting icons, I had sensed that the trip would be successful.
And so it proved. Soon, I was interviewing world poker champion Peter Eastgate for Redtooth. But this was no mumbling in a small darkened studio – Peter wanted to sit by the hotel pool (and when you've won as much as he has, then why not?), so off we went to lounge adjacent to a magnificent pool surrounded by scantily-clad beauties. It made focusing on questions about his style of play enormously difficult, but I managed…look out for the audio interview of Peter which will be on here soon!
During my stay in Vegas, I played in almost 20 poker tournaments, the first of which was while we were waiting to check into the sumptuous Ballys hotel. They kept my dad and I waiting for what they considered too long, so they upgraded us; I was very impressed.
I then proceeded to win back-to-back tournaments at Ballys in-house casino; the first had 50-odd runners, so I collected around $800 and I finished the second, which had more than 70 players, over $1,300 to the good. I felt on top of the world and when, the following night, I turned up to play, I could see people recognised me in the poker room, avoiding the tables at which I was playing. They must have thought I was a poker superstar.
I had further success at the famous Binions casino a few days later when I entered a $125 tournament and found myself pitched against players of the calibre of Jerry Yang and several guys who claimed to be friends of poker legend Doyle Brunson. Believe it or not, I won this too, trousering $1,800, but what made matters even better, my dad had been playing in another tournament at the same time and he won $650 too! What a night for the Marsh family. We celebrated until the wee small hours…
If there was a disappointment, it was that when I came to register for the $1,500 buy-in event at the WSOP for which I had specifically travelled, I was told the tournament had sold out. They capped the number of entrants at 3,000 and had a stand-by list of 300. Drudging back to my hotel afterwards was painful because I was clearly in decent enough form to have gone deep in that event.
The silver lining is that afterwards, I was speaking with one of the other senior Redtooth guys and we've decided we're going to try and stage a 'Champion of Champions' tournament next year for Redtooth poker players, the prize for which will be a trip to Las Vegas. We'll let you have more details when we've finalised them.
Overall, the trip was hugely enjoyable and I found the calibre of play was very high; you can be sitting at a fairly nondescript table when you recognise a face and then the penny drops – he's such-and-such, a pro sponsored by one of poker's big names websites. Several of the players, most especially EPT winner Julian Thew, approach the game like chess masters; these guys are capable of seeing several moves ahead and can go all-in without looking at their cards. Impressive stuff. Can't wait for next year…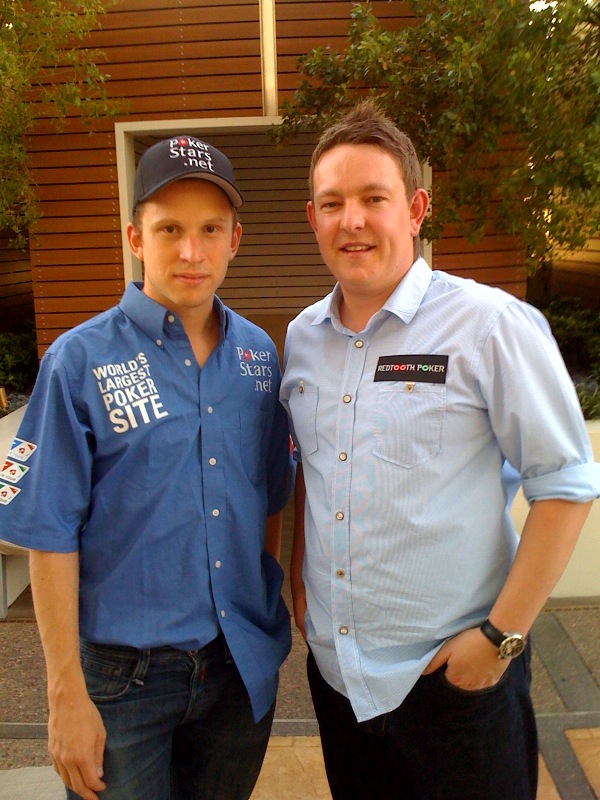 Me & Peter Eastgate (WSOP Main Event Winner 2008) 
If you want to read more about our Redtooth Review go to //content.betfred.com/redtooth/review.html
Scott Marsh
National Poker Manager
Redtooth Poker